We Tried the Top 10 Smartbear Alternative [in-Depth Analysis]
Smartbear is a powerful and robust automated GUI testing tools for web, mobile, and desktop applications. However, we wanted more from the automated testing tool that we were relying on.
That is where we started looking for a Smartbear alternative. And after tons of head-to-head comparisons and testing, we picked a couple of Smartbear competitors that are worth the try. Want to know all about the competitors and alternatives we are talking about here? Stick till the end!
Top 10 Alternatives to Smartbear
So, after tons of deliberation and a hefty amount of debate with our team, we have managed to huddle this list of worthy Smartbear competitors and alternatives:
1. Testsigma
At the very top of the list for the Smartbear alternatives, we have Testsigma. And it is on the top for a particular reason. At its core, Testsigma is a Test Automation Ecosystem. It has all the essential elements that users would require for test automation. But that is not all that Testsigma has to bring to the table.
The platform has Natural Language Processing power, which means you can develop and write tests for mobile and web applications with simple English. Also, there will be no need to spend a lot of time on the Test development. The service is super fast, fully loaded with Artificial Intelligence-driven maintenance.
Furthermore, you will find proper cloud integration and a modern UI. It even has Parallel Testing features, which are some that most of the alternatives do not offer. The starting price is also at a pretty budget-friendly point, and the service has proper support for the users. Overall, it is an excellent tool for software testing and web app.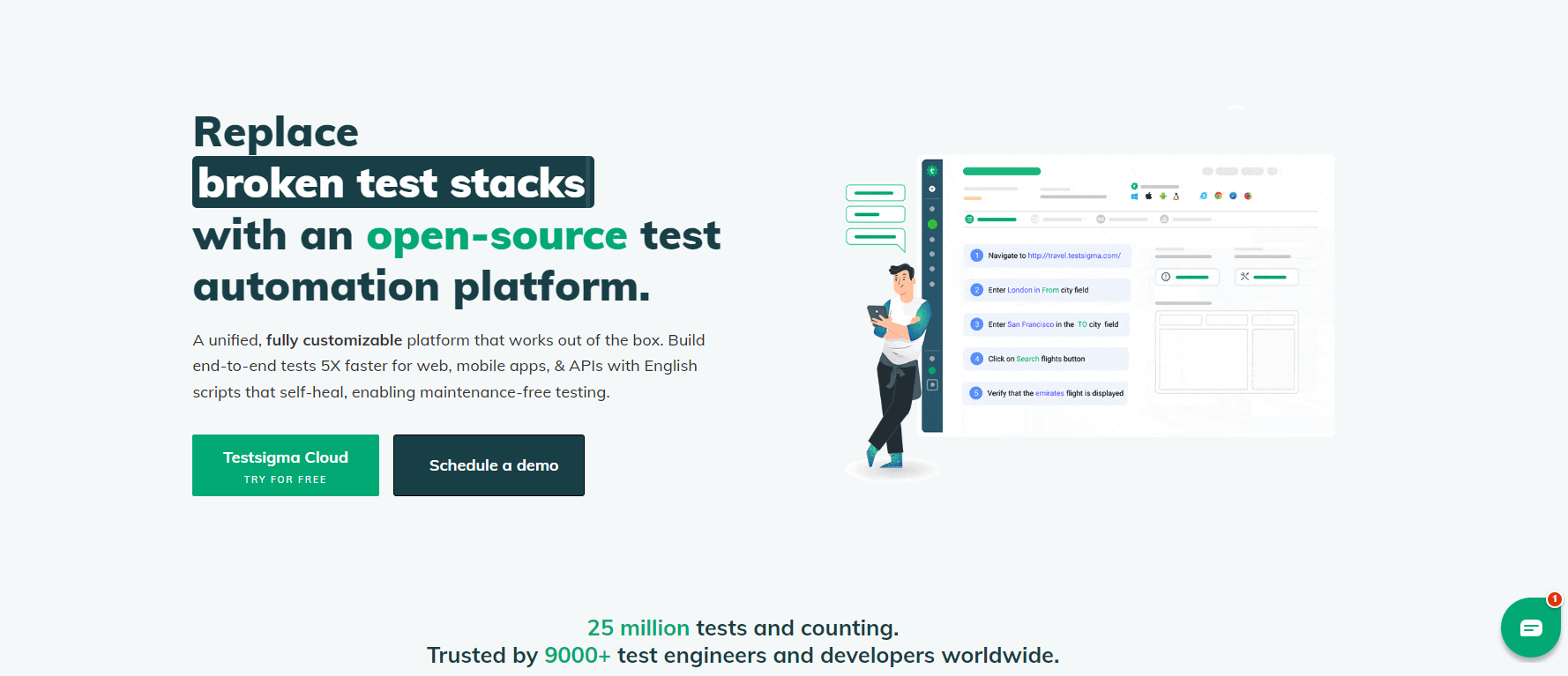 2. LambdaTest
Are you on the lookout for a cross-browser testing platform that can help your medium or small businesses run web automation tests on a large scale? You should take a look at what LambdaTest is offering here!
The service will ensure that your business processes work smoothly and flawlessly. For doing that, LambdaTest offers coverage to run web automation tests on 2000+ operating systems, devices, and browsers. The platform has tons of features. One of them, called Cypress CLI, will let the users test 40+ different versions of browsers.
Other than that, the platform supports manual testers and provides tons of manual testing features. So, users are not limited to the automated features of this automation tool. Also, there are visual studio UI and real-time test features available on the platform. What else could you ask from web and mobile test tools?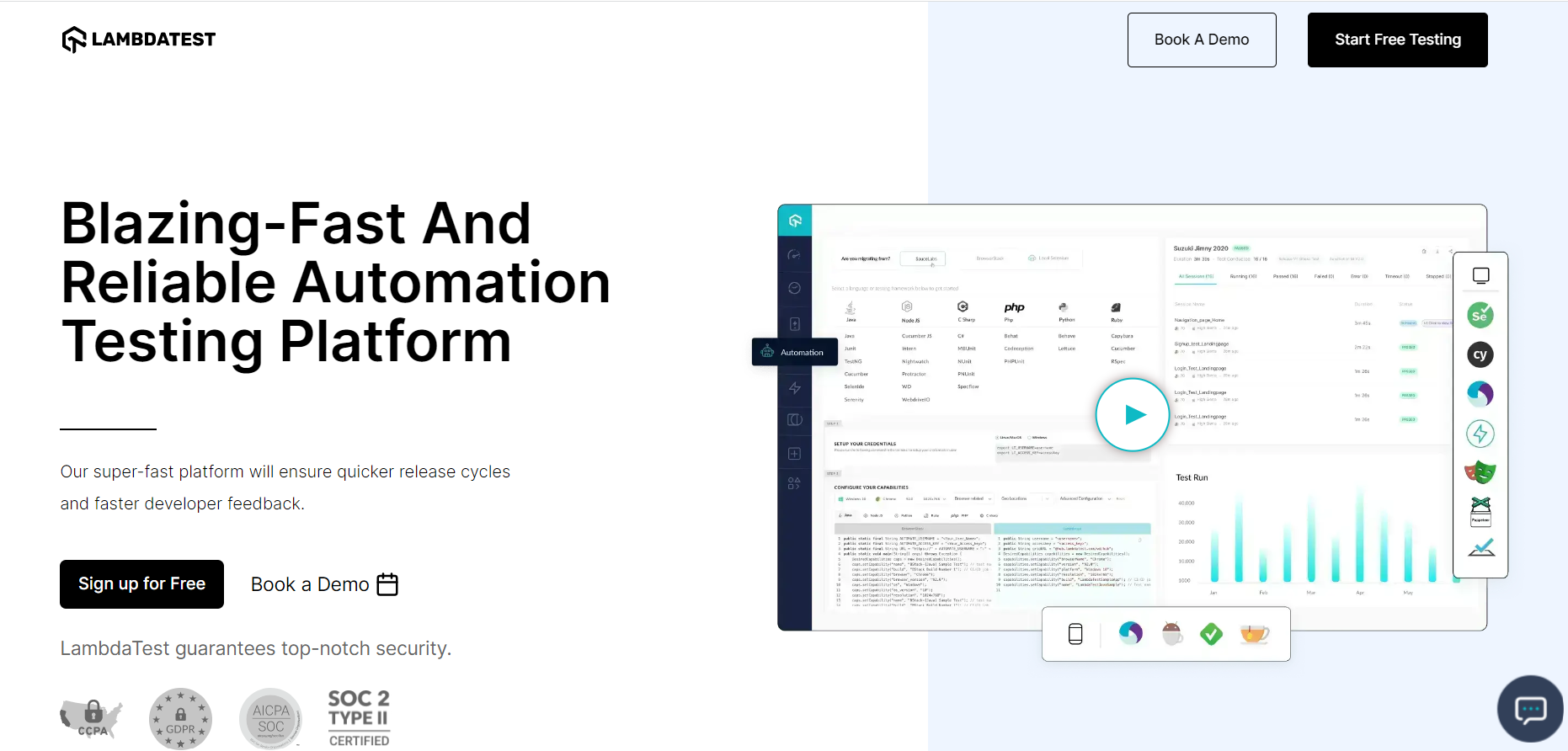 3. BrowserStack
One of the browser automation solutions that carry out two million tests every day across 15 different global data servers is BrowserStack. The cloud platform is mostly known to offer developers access to 2000+ real browsers and mobile devices for web application testing.
Unlike any regular test automation tool, this reliable tool provides its customers with proper support. Its features will let the developers handle data swiftly and allow them to manage their mobile applications and software accordingly. They will even have the ability to monitor their in-house test infrastructure.
That is why it has Wells Fargo, NVIDIA, Tesco, Shell, and other top dogs on its user list. You will not even have to worry about the speed of the testing process. Compared to other regular Smartbear alternatives, the tool is pretty fast. And in terms of pricing, it has a reasonable starting price that caters to most of its users properly.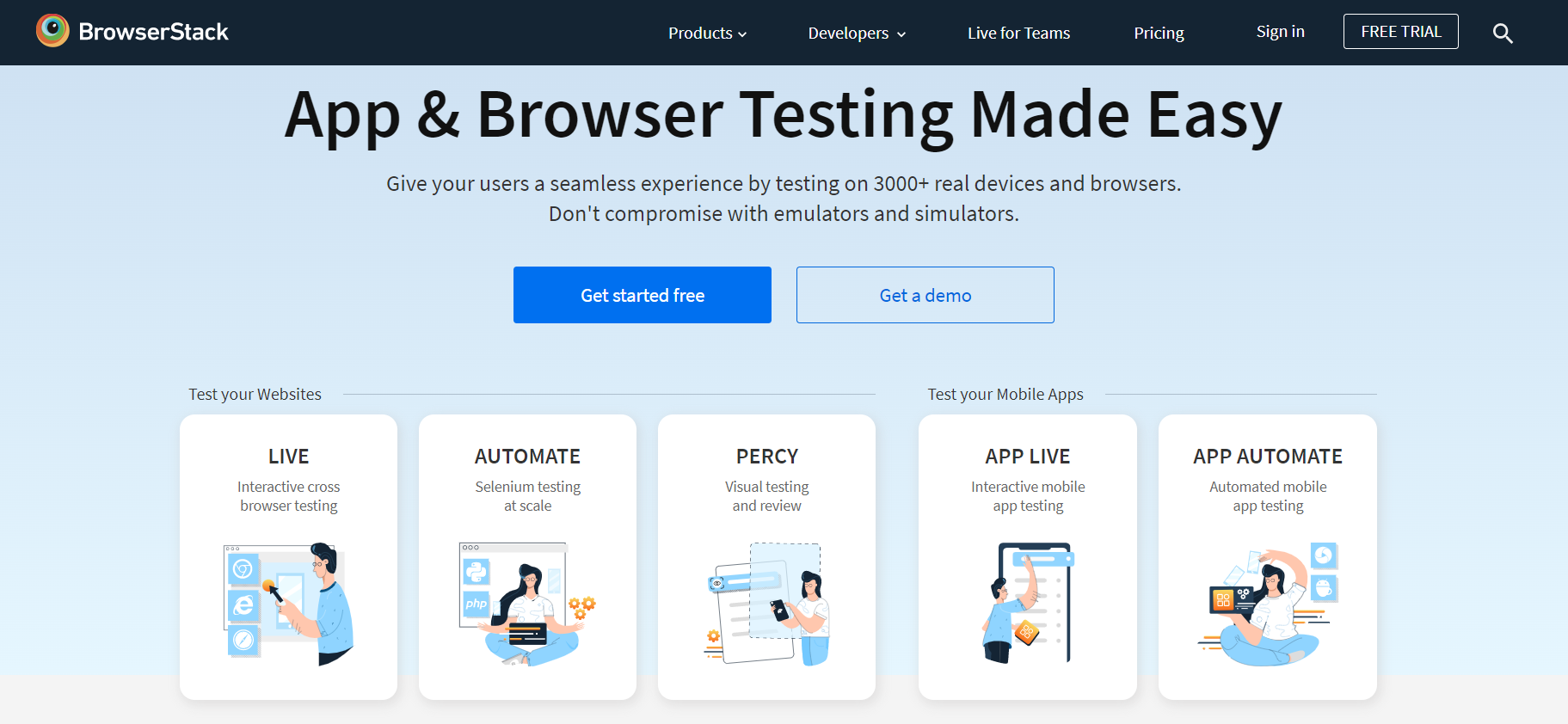 Is the pricing of the automation systems worrying you too much? Want to try out a totally free service? You need to check out Tricentis!
As we mentioned earlier, the service is free-to-use. You will not need to worry about the starting price, nor will you need to subscribe to a plan just to use the test features of the tool. And although it is free, the product support is stellar. The team is dedicated to offering good support to its users.
Other than that, the initial setup process is pretty hassle-free. Compared with other Smartbear alternatives, you will not need to go through any hassles when setting up this automation tool. The tool also provides a fluid test automation experience. It boasts support for multiple operating systems and cross-browser testing.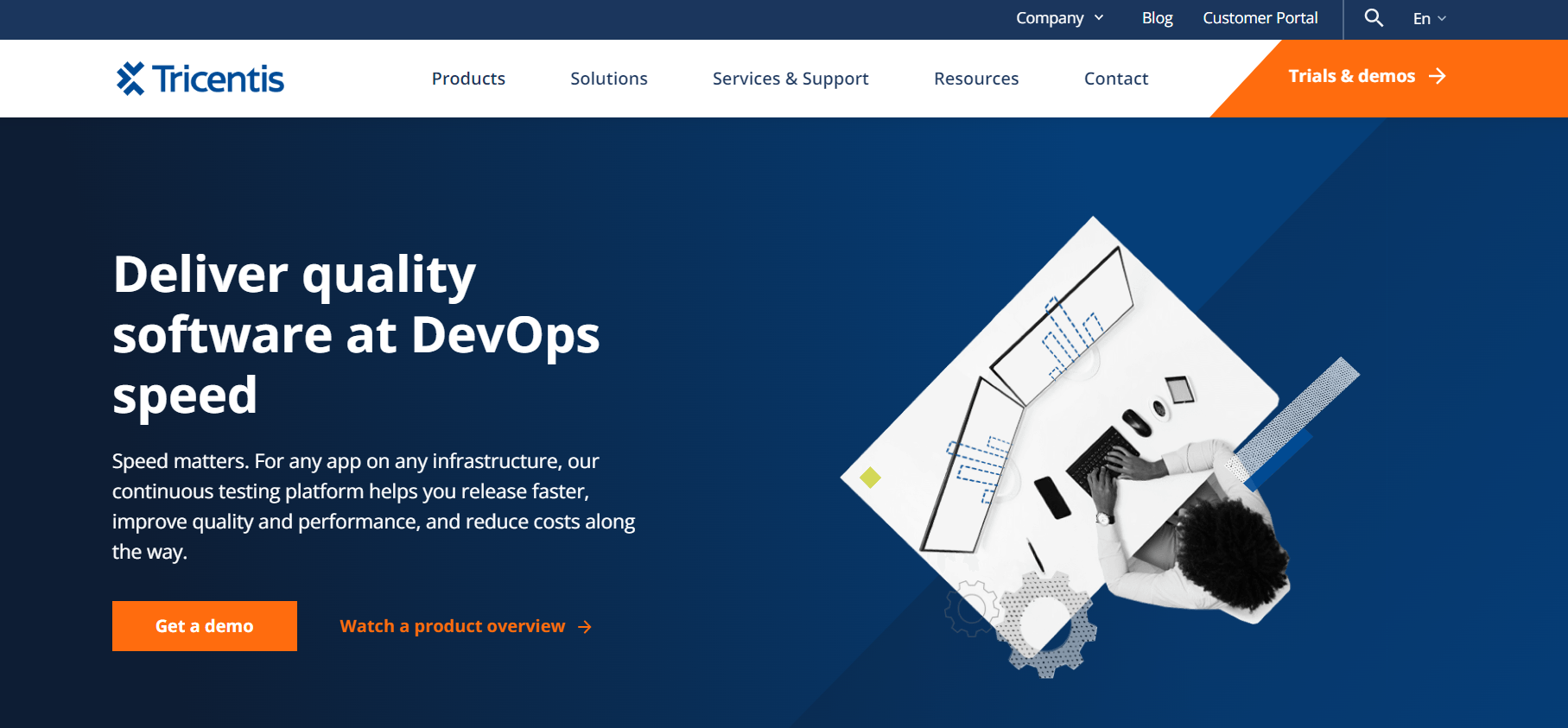 5. ReadyAPI
Formerly known as LoadUI pro, SoapUI pro, or ServiceV Pro, ReadyAPI should be your go-to service if you are looking for a good API-testing service. It does not skimp one bit when it comes to providing stellar API tests. Want to know all that it is about? Continue reading!
The testing tool offers automation features that will make your marketing efforts provide good results. Its API functionality lets developers go through their data correctly and test their API software properly. This automated testing tool even has end-to-end complex API tests.
Its continuous integration is a dream for manual testers. The features will let teams work with other developers to carry out effective end-to-end API tests. And the best part is that you will not even need to code just to carry out the API automation tests. The software will handle most of the things for you.

6. Sauce Labs
We have another continuous testing and continuous integration automation testing tool that will make things easier for you. However, some features make this testing tool stand out from the others.
At its core, Sauce Labs is an automation testing tool for desktop and mobile apps. The software is built to be instantly scalable, giving you a proper idea of how easy it would be to take advantage of testing features. It even has support for running parallel tests on multiple virtual machines.
The software also has support for hybrid tests. That will allow the developers to carry out testing tasks swiftly and affordably. Yes, even though it is not free, the pricing is not something you will need to worry about. And the features that it offers are totally worth the pricing it asks for.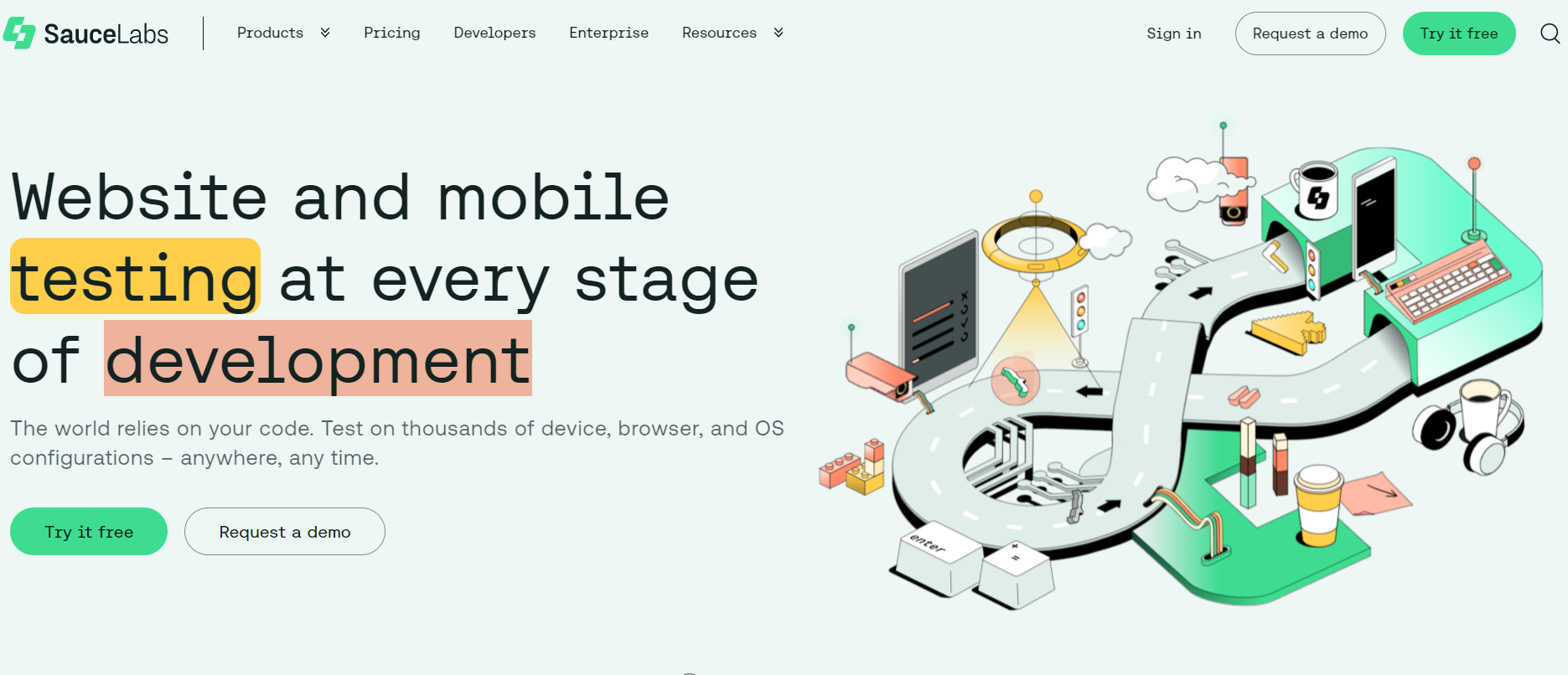 7. Worksoft Certify
Want to try out your web and mobile applications on any SAP platforms? Worksoft Certify is probably the testing software that you have been looking for!
As we have already mentioned, this software works on almost all SAP platforms. The software's features are pretty reliable and will handle all your SAP needs. But that is not the only good part about the software. To carry out testing tasks with this tool, you will not need any technical knowledge!
There will be no need to learn any coding language just for testing your web and mobile applications through this tool. It also provides the ability to save and view the results. That will enable you to scrutinize all of the tests properly. Also, the starting price is at a reasonable point.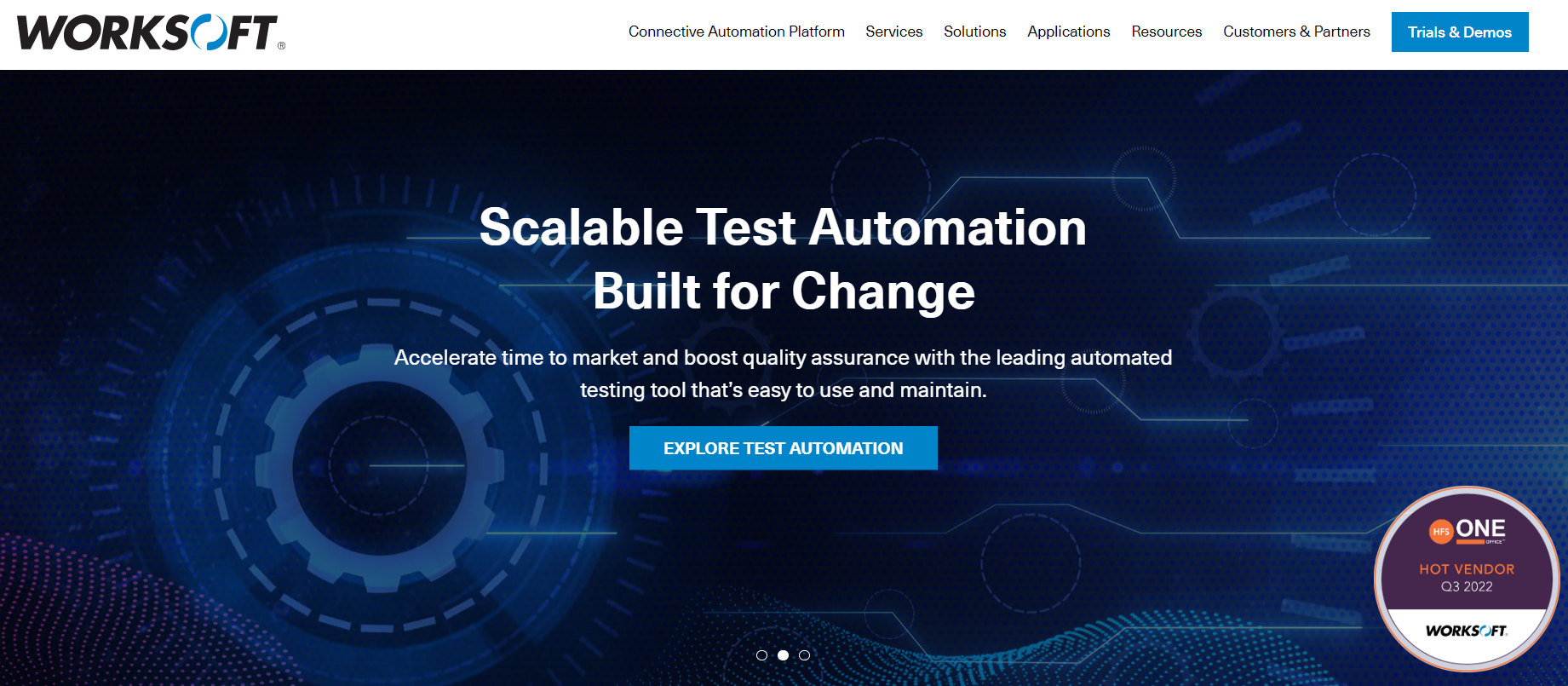 8. Micro Focus
User-friendly testing software is not that easy to find. However, if you are looking for one, you should keep Micro Focus in your consideration.
The first highlight of this software is that it is highly user-friendly. There will be no need to have any technical knowledge to carry out testing tasks with this. It also features the support to work with different IDEs and UFT One. And you will have loads of flexibility in testing API, mobile, and web apps.
Even though it is not free, the pricing plan of the software is pretty reasonable. Compared to other cloud-based services, it has loads of API and regression testing features that are highly flexible. Your developer team will indeed thank you for opting for this service.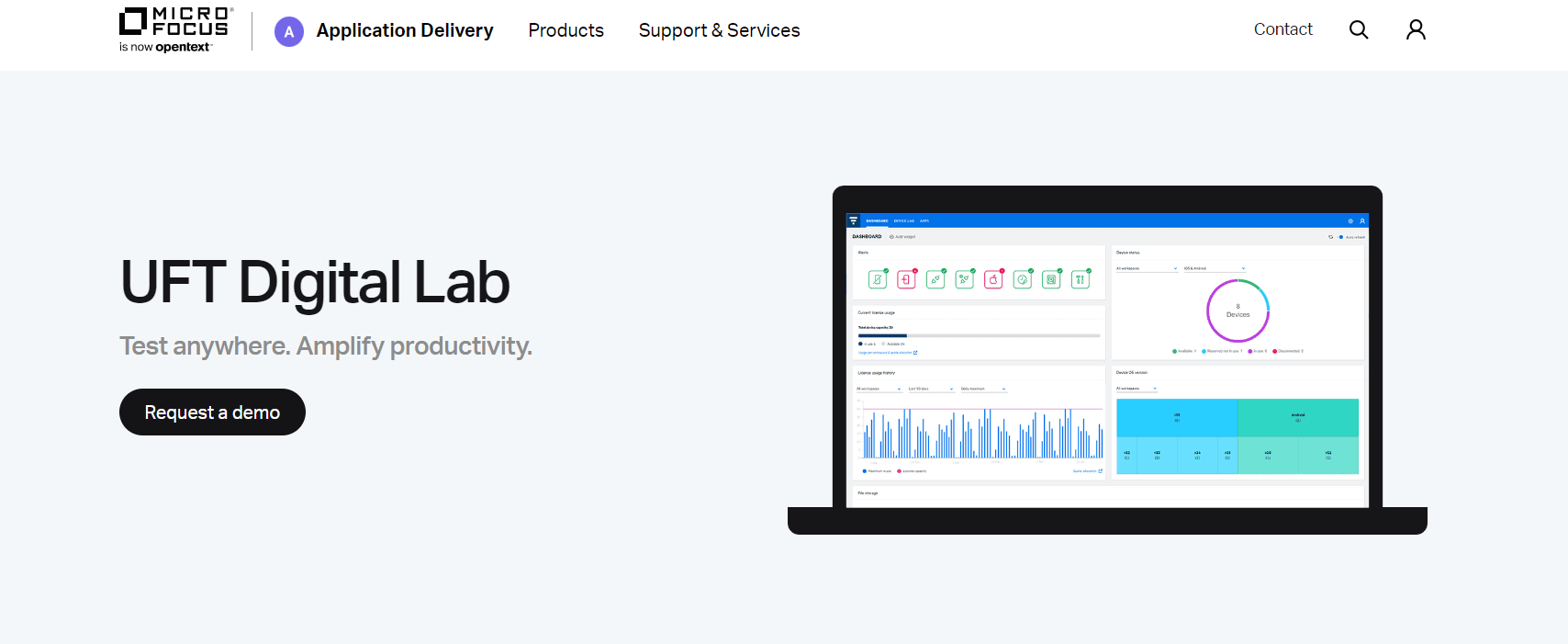 9. Silk Test
On the hunt for testing software that supports object-based implementation? Silk Test is probably what you have been searching for all this time!
This automation testing tool is mainly for performing functionality and regression tests. And it does that in the best possible manner. The features that it boasts will make your workflow smooth. It will help you finish the project at hand in a much shorter period.
The software even has support for different popular browsers. That includes Firefox, Chrome, and others. Also, you can carry out Java, DOM, and other tests with the software.
10. Katalon Studio
Last but not least, we have Katalon Studio. It is one of the tolls with a very useful Record and Run feature. But that is not all that it has to offer.
If you dig in, you will find plenty of automation testing features on this software, including Object Spy. The things that it offers will make it easier for you to carry out mobile application testing tasks. Its API automation feature is highly praiseworthy as well.
The software is also an all-in-one place for plenty of different automation solutions. With this software, you can make your developer team work swiftly in one place and get more remarkable results. So, it is an excellent pick for automation testing tasks.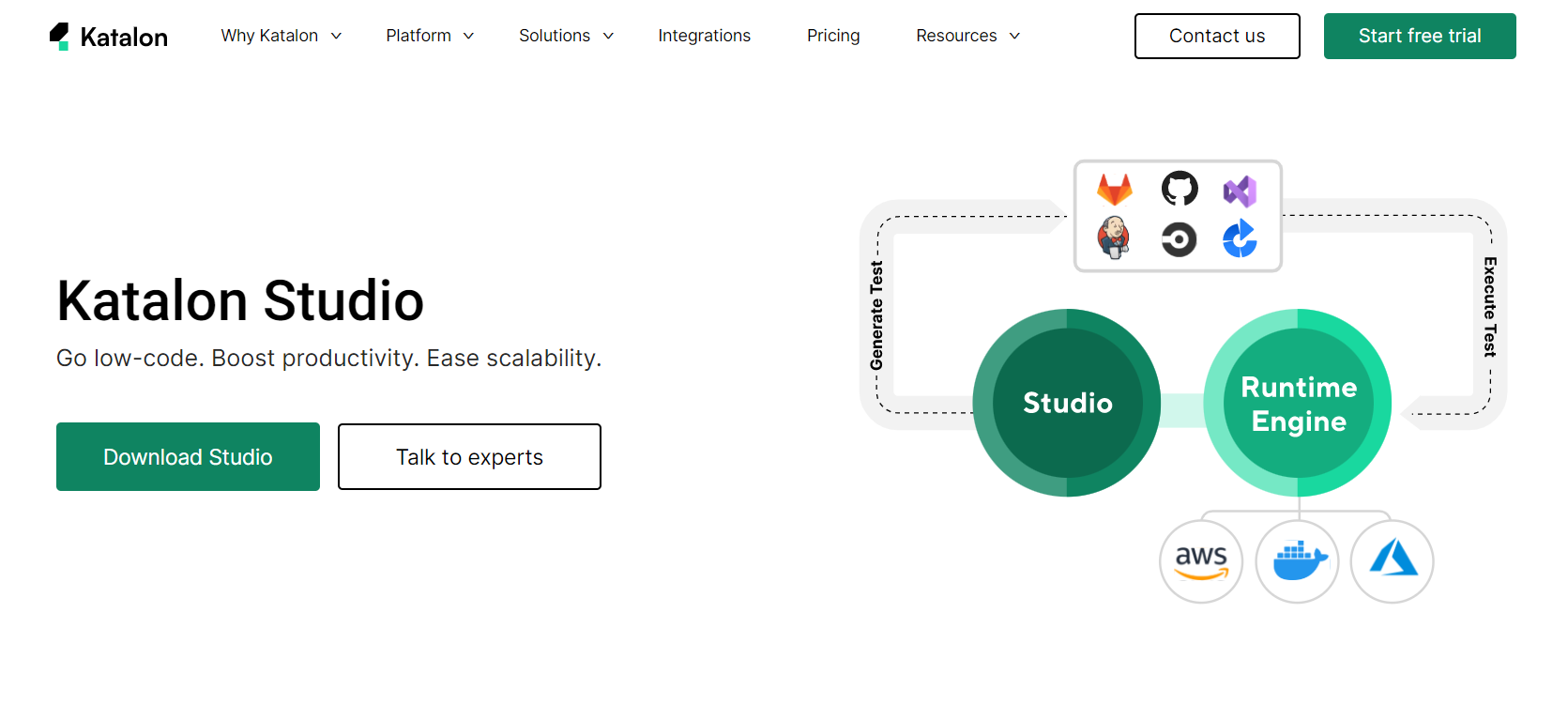 Final Words
The end-to-end and object recognition for GUI tests is pretty top-notch for Smartbear. Let us not forget about the regression testing feature. It is truly excellent software. But there are loads of Smarbear competitors that are offering better value for its pricing. Most provide good support and a fluid testing process.
However, our top recommendation for the Smartbear alternative would be Testsigma. Even though it is not free, its features are worth the price. And you will be capable of handling each of your testing needs with the software.
---