6 Best LambdaTest Alternatives for Test Automation
LambdaTest is an excellent software testing platform, but it might not be for everyone. If you're wondering if it's for you, worry not – you're not alone.
If you're considering automation testing tools other than LambdaTest, you're in the right place. We researched many potential alternatives to LambdaTest, and it's safe to say that there are some really good options.
So, we evaluated different features in a test automation tool like contracting, service and support, integration, and overall performance. After a thorough overview of these automation testing tools in different browsers and devices, we found some of the best LambdaTest alternatives. Time for you to give them a go!
Why Do People Choose LambdaTest?
If you plan to run automated tests using Selenium, you'll have to go for a good, reliable platform, not a free tool that doesn't stay functional all the time.
This is where LambdaTest excels – they provide clients with a cloud-based platform to execute tests quickly. Their Selenium grid lets you do browser compatibility testing, and through this, you can overview your website's performance across different browsers.
Moreover, you get to test your web apps in multiple operating systems, including Windows and Mac.
Their cross-browser testing is quite simple – you can test in Google chrome, internet explorer, or Microsoft edge simultaneously with LambdaTest. For new users, these are reasons enough to opt for LambdaTest for automated testing.
The Top LambdaTest Alternatives
LambdaTest, with its robust automation solution and single cloud platform, is a reliable test automation tool. But if you are looking for alternatives for any reason, here are six tools that can comprehensively test websites and should be great alternatives to LambdaTest.
Top 6 LambdaTest Alternatives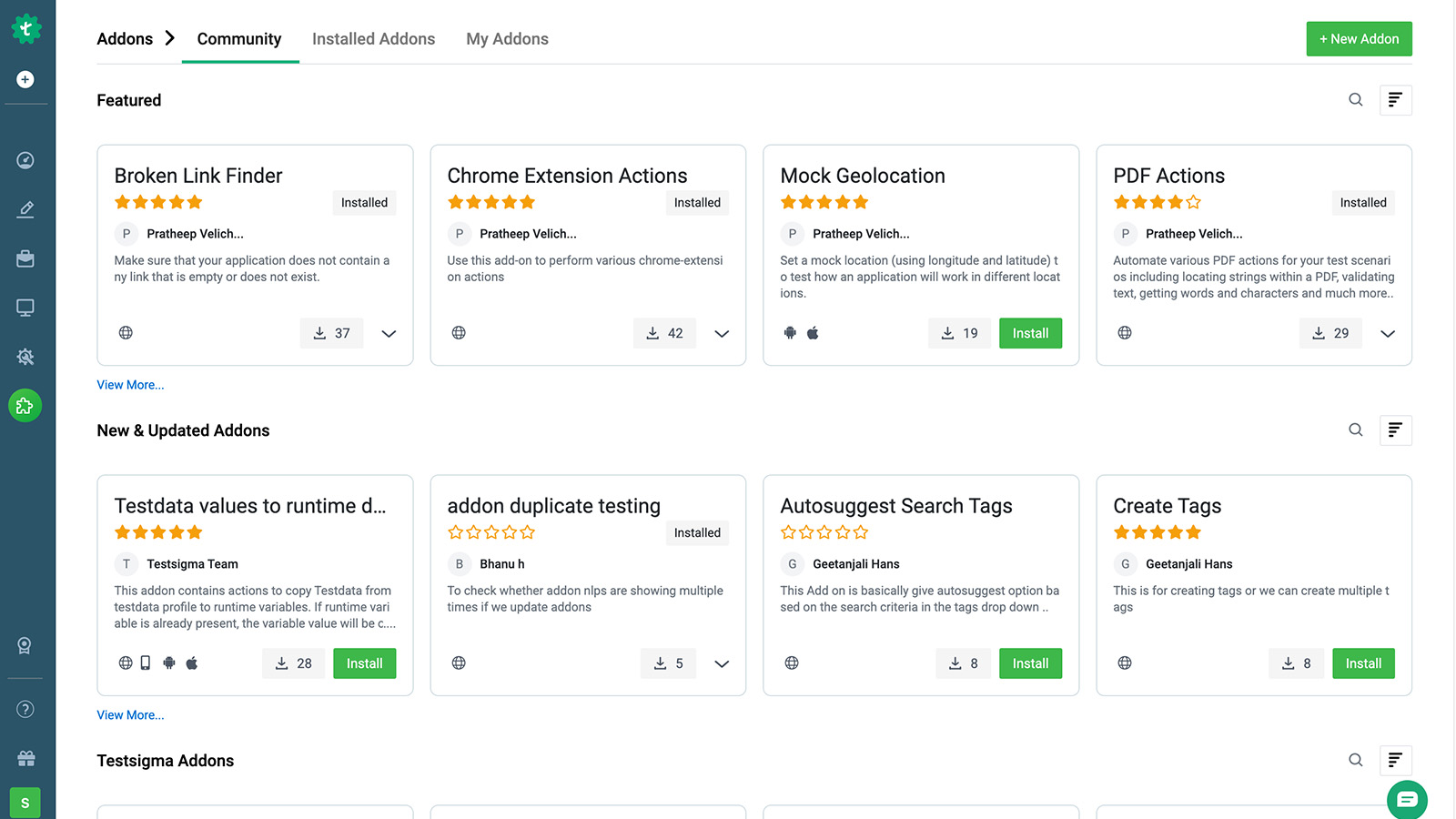 Testsigma is a fantastic option for people who want to put their entire testing process in one place: from design phase to creation, execution, analysis, debugging, reporting, and beyond. It's one of those end-to-end testing platforms built explicitly to make testing seamless and collaborative.
Testsigma helps people through the major steps of developing software or a website. From planning and developing to analyzing, debugging, and finally providing a detailed report of the automated tests – Testsigma does it all.
They've made quite a name for themselves in recent times, mainly because their test scripts are codeless, and they are an end-to-end web, mobile, and API testing platform.
For people with little to no knowledge about coding, it's a great option because all you have to do is write or generate test scripts in plain English.
Apart from that, this platform has data-driven testing, visual testing, 2FA testing, and many other features. Testsigma will also assist you in identifying and fixing all the test failures.
You can try Testsigma using the 21-day free trial. With the trial, you can access all features with no credit card details required.
Testsigma vs. LambdaTest: How Do They Compare?
Let's consider the platforms supported by these two automation tools. Testsigma supports all three top operating systems – Windows, macOS, and Linux, whereas LambdaTest only supports macOS and Windows.
When it comes to test automation, Testsigma is a clear winner as it allows the users to do at least six different tests, whereas LambdaTest only allows three. Moreover, LambdaTest doesn't have parameterized testing and Unicode compliance like Testsigma does.
Also Check: Comparison between Testsigma and Protractor
2. Sauce Labs
Sauce Labs has been on the market as an automated testing platform for a long time. According to their site, at least 3 billion tests have been run on their continuous testing cloud. The company gives its users a 360-degree experience, helping their businesses grow by analyzing customer feedback.
If you have a website, you should know that keeping it functional in all mediums is crucial. Be it mobile apps, desktop apps, or web apps.
This is where Sauce Labs come in, as their algorithm and manual testing features enable website owners to give the customers a seamless and comfortable user experience.
Sauce Labs vs. LambdaTest: Who's Better As a Software Testing Platform?
Considering the pricing and the lack of a Free Trial option, Sauce Labs lags a bit behind LambdaTest. If you plan to scale your tests on multiple browsers, then Sauce Labs should prove to be a more practical and simpler option.
Considering the training provided by the two companies, we'd say that LambdaTest has extensive training modules. However, Sauce Labs provide system and unit testing features, which aren't available in LambdaTest. Overall, it's a mixed bag for both of them as we can't declare a clear winner.
3. BrowserStack
BrowserStack is undoubtedly on our list of the top alternatives to LambdaTest, mostly because of the excellent cloud of real devices, including mobile and browsers. Their reliable cloud selenium grid will help you run tons of tests effortlessly.
Many companies like Barclays, Twitter, Microsoft, and others have opted against the traditional manual infrastructure and joined us in a swifter and seamless automation system.
From built-in keywords to seamless automation in different devices, BrowserStack surely caught our attention with its efficient service. If you opt for their service, you should be able to build websites and software in a much lesser timeframe!
BrowserStack vs. LambdaTest: Are There Any Similarities?
BrowserStack and LambdaTest have similarities. They both allow the users to do parallel execution and automated testing. But that's where the similarities end.
The key difference between these two is in the functional test features. While BrowserStack has nearly all the necessary test features, LambdaTest doesn't have unit and system testing. However, LambdaTest does have a few things better than BrowserStack. They have a free version, unlike BrowserStack, and their training modules are more interactive, and their prices are lower. So considering all the features, we can call it a draw between these two.
4. ProdPerfect
Simply put, test automation is made easy by ProdPerfect. They're the very first E2E (End-to-End) regression testing platform in this business. ProdPerfect does data-driven analysis by acquiring and dissecting user behavior information.
This autonomous testing platform helps you build, maintain and develop your website through their E2E test suite.
The best thing about ProdPerfect is that they have the power to reduce lengthy test runtimes and find out bugs effortlessly. If you have a web-driven software business, ProdPerfect can be a fantastic tool for you. From seamless test automation to improvement in the overall quality of your software – they do it all!
ProdPerfect vs. LambdaTest: Who Stands Out?
Two things stand out while comparing these two test automation platforms. First, ProdPerfect doesn't have free trials or free versions like LambdaTest. Second, Prodperfect offers you parameterized and requirement-based testing.
Apart from these, considering the integration, LambdaTest clearly wins it over ProdPerfect. They also provide decent software testing and have a much better training module than ProdPerfect.
5. Testim
Testim is basically a 'jack of all trades' kind of test automation platform. If you're good with coding, you'll enjoy their efficient algorithm. If you have no clue about coding, you'll still like their simple, codeless testing features.
The best part about Testim is that they create very stable tests that can be effective for comprehensive testing. From JFrog to NetApp and Microsoft – all the big companies run tests on Testim.
Even though they don't have mobile applications or mobile testing features, Testim does have a modern API run by Java, so debugging or refactoring tests should be a piece of cake for anyone. For software and website developers, Testim can be a very effective tool for software testing, be it automated or manual!
Testim vs. LambdaTest: How Are They Different?
Both of these platforms have free versions available. While Testim focuses on software testing more, LambdaTest focuses more on test management and automated testing.
From test script reviews to Unicode compliance, Testim excels in most of the major testing features. However, LambdaTest has relatively more integrations and costs significantly lesser than Testim. When it comes to providing a quick solution, Testim assigns a team member for you, and they take care of the situation as fast as possible.
6. Ranorex Studio
Ranorex is another all-purpose automation platform that can be used by both beginners and coding experts. You get to automate your tests using Ranorex and their features like the 'drag-and-drop,' 'capture-and-replay,' etc. They focus on keyword-driven testing using code modules.
Perhaps the best thing about automation testing using Ranorex is that they support a wide range of different technologies, including desktop and mobile applications.
Moreover, Ranorex supports both Android and iOS testing on real devices and in different browsers like firefox and google chrome. Their Selenium Webdriver is a key feature for web apps, and it makes your cross-browser test automation much, much easier.
Ranorex vs. LambdaTest: Who's Better for Automated Tests?
Ranorex is simply a much better option when it comes to essential features like parameterized and requirement-based testing. Moreover, cross-browser testing is also much easier with Ranorex. Finally, the fact that Ranorex has both iOS and Android apps gives them an edge over LambdaTest.
Check Out: The comparison of Lambda Test to Smartbear from this article.
Verdict
Truth be told, most of these options are fantastic testing platforms if we consider their overall attributes. One tool might be better than the other, but if you simply want to test your website or software on different browsers, you can choose any one from the list – they're all good!
Frequently Asked Questions
1. Is lambdatest a free tool?
Ans: LambdaTest has both free and paid plans. The free plan allows limited usage with specific restrictions like access for only a few browsers and OS.
2. Is there a better alternative to lambda test?
Ans: Testsigma is the better alternative to Lambdatest as it supports all major operating systems, while LambdaTest only supports macOS and Windows. Testsigma offers a broader range of testing abilities, making it the best option for comprehensive test automation.
---