We tried 6 Best Appium Alternatives [In-depth Comparison]
Appium is a renowned automated testing tool for running tests on mobile platforms such as iOS, Android, and Windows. As far as open-source mobile test automation tools go, the alternatives are limited, but they exist. We have found some of the top Appium alternatives that will meet your automation testing requirements just as well, if not significantly better than Appium.
Let's check them out here.
6 Best Appium Alternatives
Comparison Table
| | | | | | | |
| --- | --- | --- | --- | --- | --- | --- |
| Feature | Testsigma | Kobiton | Oracle TaaS | Cypress | IBM – Engineering Test Management | Sauce Labs |
| Cloud-based | Yes | Yes | Yes | No | Yes | Yes |
| Real device testing | Yes | Yes | No | No | No | Yes |
| Scriptless/Codeless | Yes | Yes | No | No | No | Yes |
| Cross browser testing | Yes | No | No | Yes | Yes | Yes |
| Supports /integrates with other testing tools | Yes | Yes | No | No | Yes | Yes |
The different functionalities of these alternatives will ensure efficient testing of your organiation's web and mobile apps.
So, let's go right ahead and take a deeper look into these top alternatives.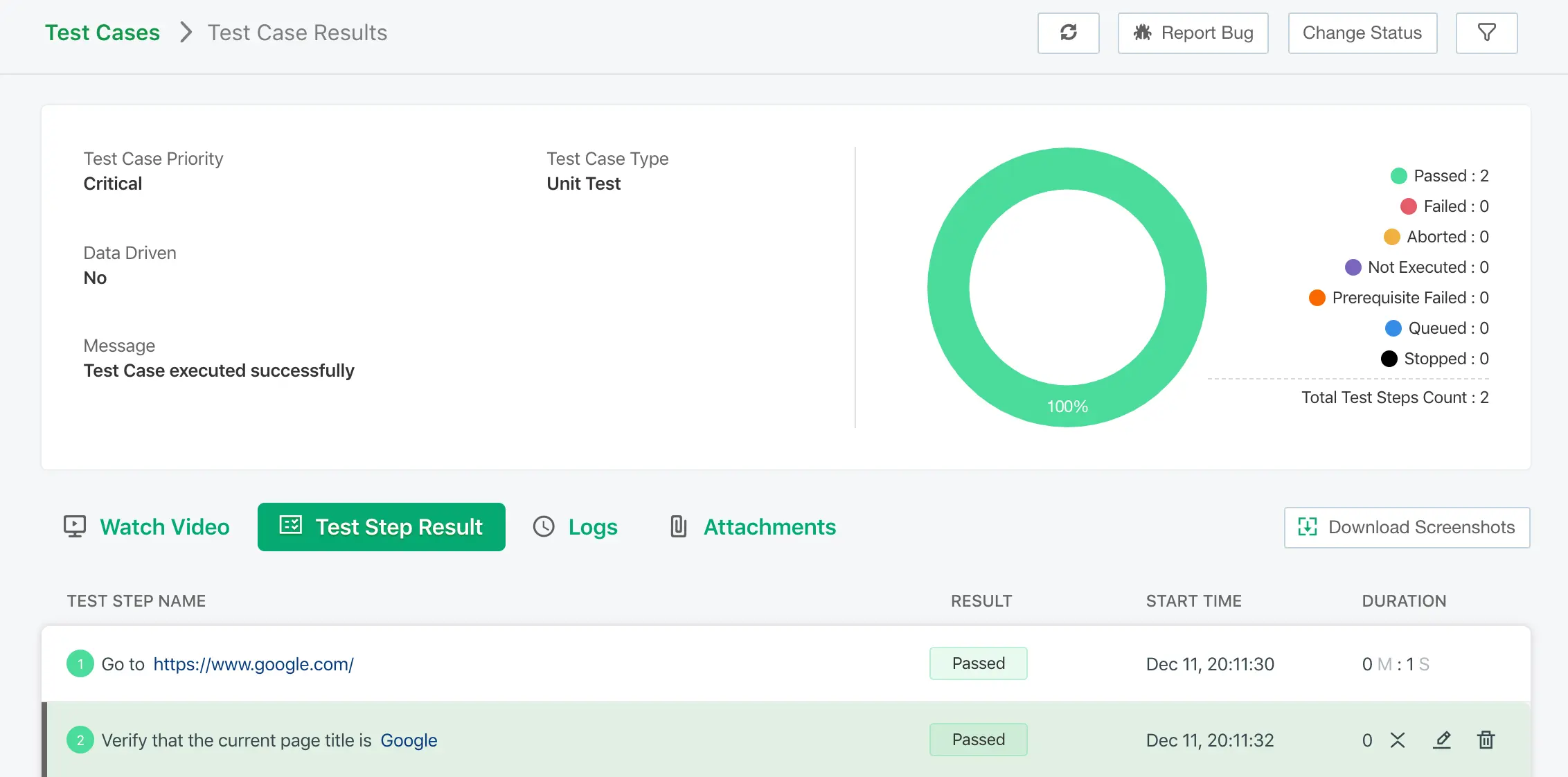 In spite of being a relatively new software testing application, Testsigma is a robust open-source tool for automation testing. Data-driven testing processes are applied with machine learning methodologies that ensure efficient testing of web and mobile applications.
This test automation framework allows to easily test mobile apps through simple graphical user interfaces. A great advantage of this user-friendly tool is that people can quickly switch from manual testing to automation testing without having to learn any programming language.
All you need to do is log into the application and create test cases with a click of a button. From then onwards, you just run automated tests based on the cases you created and execute them accordingly. A visual validation will be displayed for the test results, thus ensuring successful execution.
Real devices have also passed automated tests with Testsigma, be it Android or iOS devices. Testing of mobile browsers can also be accomplished successfully with this powerful tool.
Test frameworks like Testsigma are becoming more and more popular nowadays. They accommodate API testing, cross-platform testing, and integration with bug tracking tools. Specific web elements and their fully cloud-based nature makes accessibility and test management much more efficient.
The whole mobile testing process becomes smooth-running with this popular tool. So, when considering Appium alternatives, Testsigma is at the top of the list!
2. Kobiton
In general, mobile testing is rather tough and comes with a lot of hassle. A lot of issues arise because of network errors, battery drainage, and memory allocation. Manual testing on mobile devices is hard itself, so you can imagine how hard running automated tests would be.
This is where Kobiton acts as the light at the end of the tunnel. Be it manual or automated testing on mobile, both methods are fully supported by this incredible tool. But the best thing about this tool is that it requires no usage of emulators – meaning Kobiton is fully functional for running tests on real devices!
Being a cloud-based platform, you are free from having to install extra drivers and supporting apps for using Kobiton. The tool fully supports Appium, Selenium WebDriver, and Katalon technology which means you also are exempt from having to learn extra programming languages to run your tests.
Due to the fact that Kobiton supports other popular testing environments, you are able to save a huge amount of time from having to write test scripts. Automation testing just became so much easier with Kobiton!
The whole interface is super user-friendly with easy-to-follow steps for quick navigation. If you're a software tester, you are definitely aware of the costs incurred behind developing and maintaining test scripts. And since Kobiton supports scriptless automation technologies, the overall automation return on investment (ROI) through this tool is much higher.
So whether you are looking to test manually, automated, or even parallel for mobile, you know what tool to choose right away. Kobiton offers all your automated mobile testing needs in one package.
3. Oracle
If you are tech-savvy, then you are no doubt familiar with the juggernaut of Oracle. This tool might not be common among beginners, but long-term software testers rely on Oracle Testing as a Service like a sun rising in the east.
Oracle is used more at an enterprise level by bigger organisations for overall automated testing and software test management. Test coverage includes mobile apps on both android and iOS devices. The testing tools may initially seem a bit complex – but once you get the flow of the tool's testing process, you will realize how robust this tool is.
A tool like Oracle is usually the first choice for large tech companies for several reasons. Firstly, it provides a powerful automated testing environment and also application development tools. This helps the engineers to keep track of the test plans in all the development cycles.
As the name itself suggests, Oracle is a cloud-based service, which means you don't have to worry about separately configuring your device to make this tool work. Easily, this is one of the top Appium alternatives.
4. Cypress
What makes Cypress different from other popular automated testing tools is that it has a unique architecture. It combines all the necessary test automation requirements that would naturally require integration with Selenium. End-to-end testing of apps on mobile devices has proven to be very efficient with this tool.
Cypress is a free test automation platform for public projects but requires a fee for enterprise-level software testing. So, if you're a beginner and are interested in testing tools, this is one of the top Appium alternatives you can go for.
To get your test suite up and running, you will not need any supplementary tools to install. Creating automated tests is very easy, with simple steps to follow in Cypress. Unlike some test automation frameworks, this tool also lets you code and develop your application along the way.
So you're not just getting one of the best Appium alternatives, but a lot of additional features and functionalities all in one tool. However, Cypress will never be able to run on a native mobile app, but we can test some functionality of mobile web browsers and test mobile applications that are developed in a browser, such as with the Ionic framework.
Bug tracking also becomes very efficient with this specific tool because of its rich graphical user interfaces and strong test automation capabilities. And since it encapsulates an all-in-one test automation framework, functional testing could not get any smoother.
Appium testing is reliable, but with Cypress, you get the whole package.
5. IBM Cloud App Management
Large scale testing usually requires running automated tests in terms of continuous testing. As business risks are involved, it is better to go for professional-level test management applications compatible with different operating systems.
The Engineering Test Management tool of IBM is one of the better alternatives to Appium in such scenarios. Test scripts that were written with other testing tools can be run using this framework by IBM. Along with that, the bulk import option allows populating all your automated tests in one area.
Most big tech organizations follow the agile method instead of the waterfall for software development. To match the development style, the agile testing process is used so that the issues resulting from bug tracking are resolved quickly.
Engineering Test Management provides the appropriate test management conditions for such methods.
Considering the big and varying loads that bigger companies have to check for their data, performance testing is a must. And the IBM tool provides this capability to its full extent. Despite this being an open-source tool, all data is fully secured in the cloud.
IBM's core cloud technology embraces compatibility with both native and hybrid applications. And as far as mobile testing goes, this tool accommodates live testing for iOS apps and hybrid mobile apps.
6. Saucelabs
Last but not least, mobile testing is in its prime with the SauceLabs tool. Most junior engineers who want to initially test mobile apps choose this as an alternative to Appium. A great advantage is that Sauce Labs has a test recorder option that requires just a click.
The fact that it allows room for real devices in mobile testing makes it a highly regarded automated testing tool.
Other options include continuous testing, the testing ability of a wide range of web browsers, cloud-based services, and multiple tests on cross platform browsers. As well as simple test cases for both manual and automated testing.
Sauce Labs can also integrate with Selenium script. This is a huge benefit because, with Selenium, many different programming languages are supported. So, you don't have to worry about a certain programming language being incompatible for testing.
Know More: Comparison of Appium to Headspin in this article.
Conclusion
As technology advances day by day, the need for new and improved software increases proportionally. And with great software comes the great responsibility of automated tests.
Appium may be the most popular tool of choice for testing, but it is important to keep options open when new and different testing methods arise. For now, the top Appium alternatives can't be ruled down to a single one. Each of the different tools has its own set of unique and useful features.
Frequently Asked Questions
1. Which is the best Appium alternative?
Ans: Testsigma is the best alternative for Appium as it allows you to easily test mobile apps through simple GUIs. One more advantage is that anyone can quickly switch from manual testing to automation testing even without programming experience.
2. Is Appium outdated?
Ans: No, Appium is still one of the best platforms for tests on mobile platforms such as iOS, Android, and Windows. But tools like Testsigma have amazing features which makes them better alternatives.
---