When choosing a new Jira test management tool for your team, you should take into account a few key factors. The ideal tool should include test automation and observational testing, be simple to use, have robust test case management capabilities, and have a quick and efficient user interface.
This blog post lists top-notch Jira test management and Jira test case management tools. You can try out a few of these tools and decide which suits your team the most.
Here is the list of the 10 best test management tools (open-source or cloud-based) for Jira in 2022.
The Best Test Management Tools For Jira List
The best Test Management Tools for Jira are as follows.
1. Testsigma:
It is an AI-driven test automation solution that offers a unified platform for requirement management, the development of manual and automated test cases, and the execution of these test cases on local and cloud-based devices. Our product supports continuous testing.
With the aid of tests written in straightforward English, Testsigma makes it possible for manual testers to transition to automation testing without having to deal with the difficulties of learning a programming language.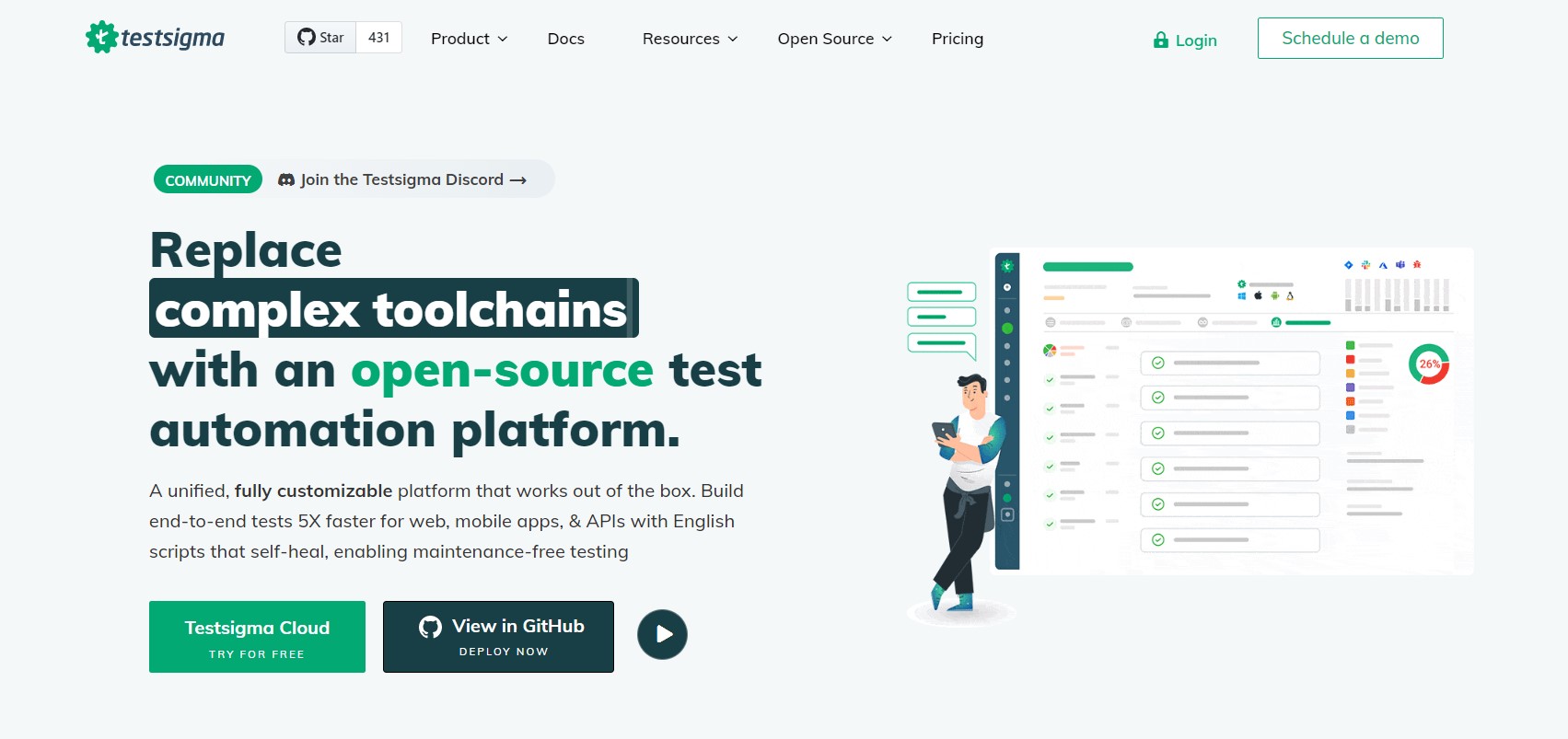 The features of Testsigma are:
It is a codeless test creation system that uses natural language (simple English).
It supports testing of web, mobile, and web services and is a cloud-based test automation solution, so no additional software installs are needed.
It uses a full STLC management system to implement continuous testing.
It facilitates testing across platforms, operating systems, and browsers.
You can run the tests on your local PCs or the cloud.
It has a Global Test Data Management System built in.
It offers integrations with bug reporting and CI/CD tools.
There are Dynamic and Customized Test Reports with Email and Slack Notifications.
Its upkeep is automated by AI.
It is equipped with a centralized object/element repository.
It includes unique features like cross-platform testing, parallel test execution, and local test execution.
2. Xray:
Agile teams globally leverage it as the first test management solution. This application may be wholly integrated with Jira to provide you with a tool that aids companies in raising the quality of their products. It makes sure you are fulfilling all requirements. With its Automated testing capability, you can increase productivity. It sets time priorities with risk-based testing and facilitates cutting-edge reporting to help you decide well.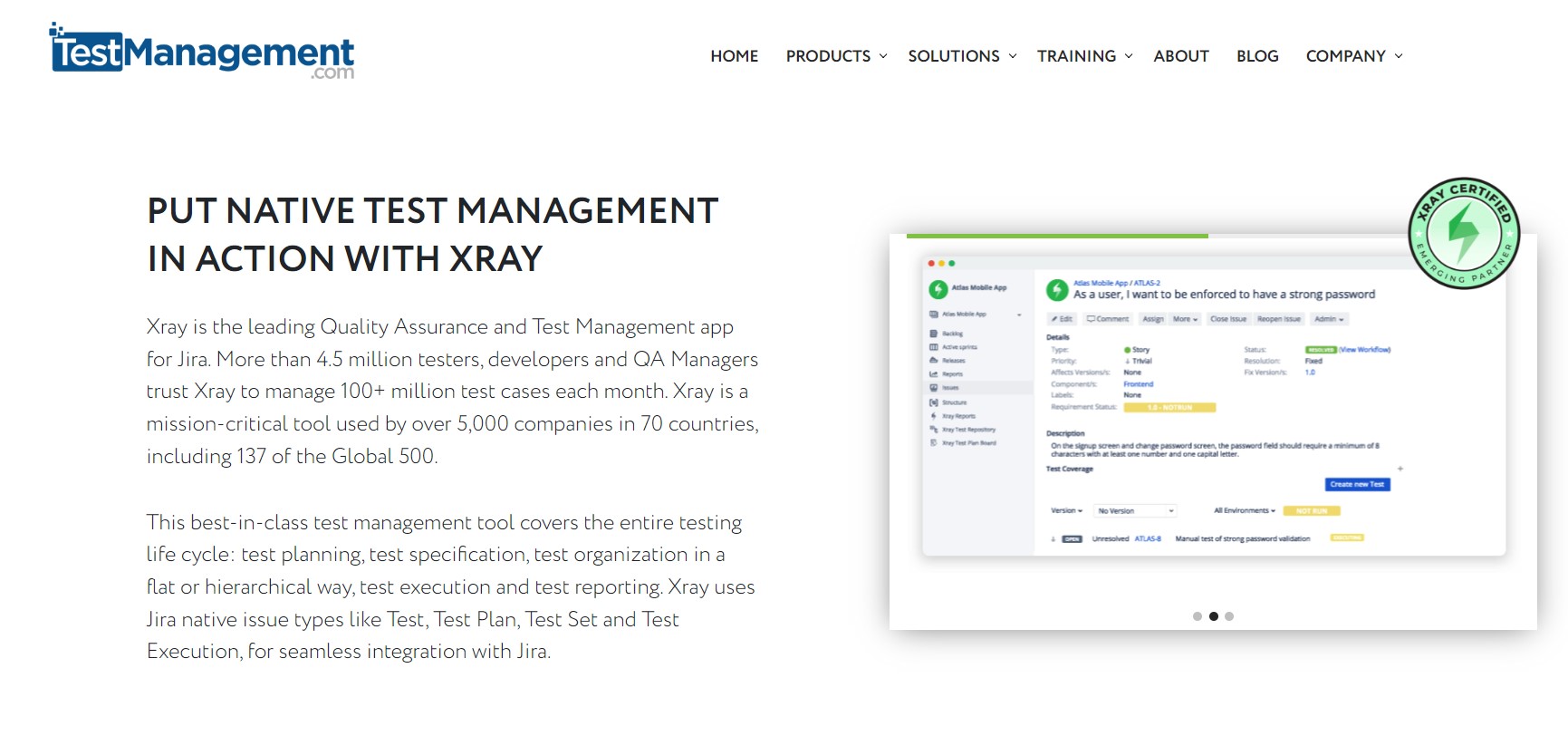 These are some of its main highlights:
It first allows you to arrange the tests in different sets saved in tables.
You receive built-in reports, which are excellent for use later on.
You finally have traceability between the execution, faults, and requirements.
It facilitates integration with the top automation frameworks.
Advanced Coverage Analysis is provided by it.
It helps with REST API integration into your CI/CD pipeline.
It has gadgets and advanced reporting.
With full work visibility, it complements Agile Methodology.
3. Zephyr Scale:
Full-featured test management software with seamless integration into Jira's user interface is Zephyr Scale – Test Management for Jira. All testing tasks, including test design, authorship, execution, tracking, and reporting, are coordinated from a single location. You can construct and customize a test plan via Jira to handle a wide range of planning themes, such as scope, strategy, resources, environments, risks, etc., rather than utilizing Microsoft Office tools to create the main test plan.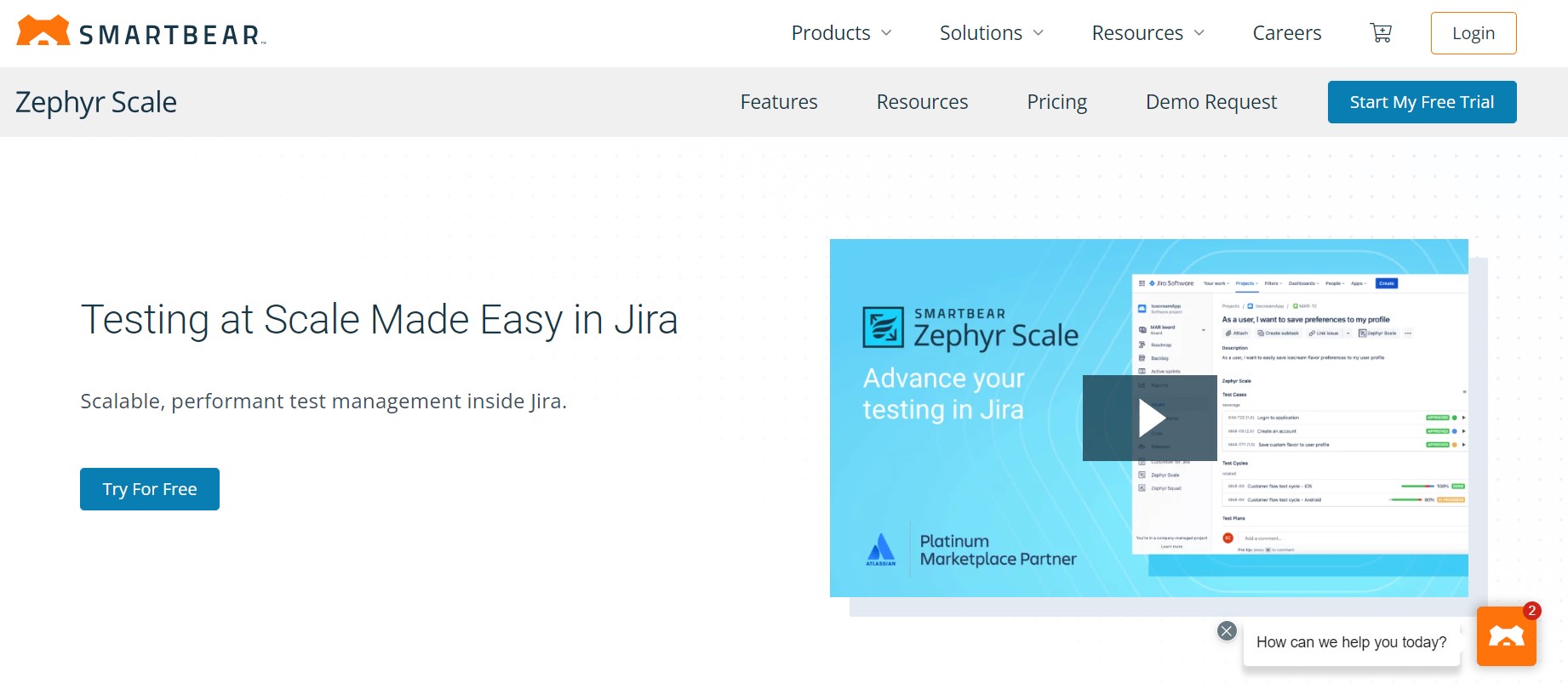 Some benefits of the Zephyr Scale are as follows:
Waterfall development is aided by test plans and test execution cycles.
It adds to and updates the test library's test cases.
To handle the test approach, it develops test strategies.
To organize the testing process, it develops test cycles.
It conducts test cycles to verify the specifications.
It offers Track coverage, advancement, and quality.
4. TestRail:
To assist you in organizing your testing efforts and gaining real-time insights into testing activity, TestRail offers full test case management. QA teams can give quick feedback and enhance productivity thanks to effective reporting and KPIs.
With the aid of screenshots and anticipated outcomes, TestRail makes it simple to record information about test cases or scenarios. You can monitor the progress of each exam and utilize useful dashboards and activity reports to track progress. Besides, you can compare outcomes from various test iterations, setups, and completion dates.
The insights this tool provides will help you plan your upcoming testing activity and will aid in managing your test techniques. The Quality Assurance team's work is cut back by the detailed reports it provides.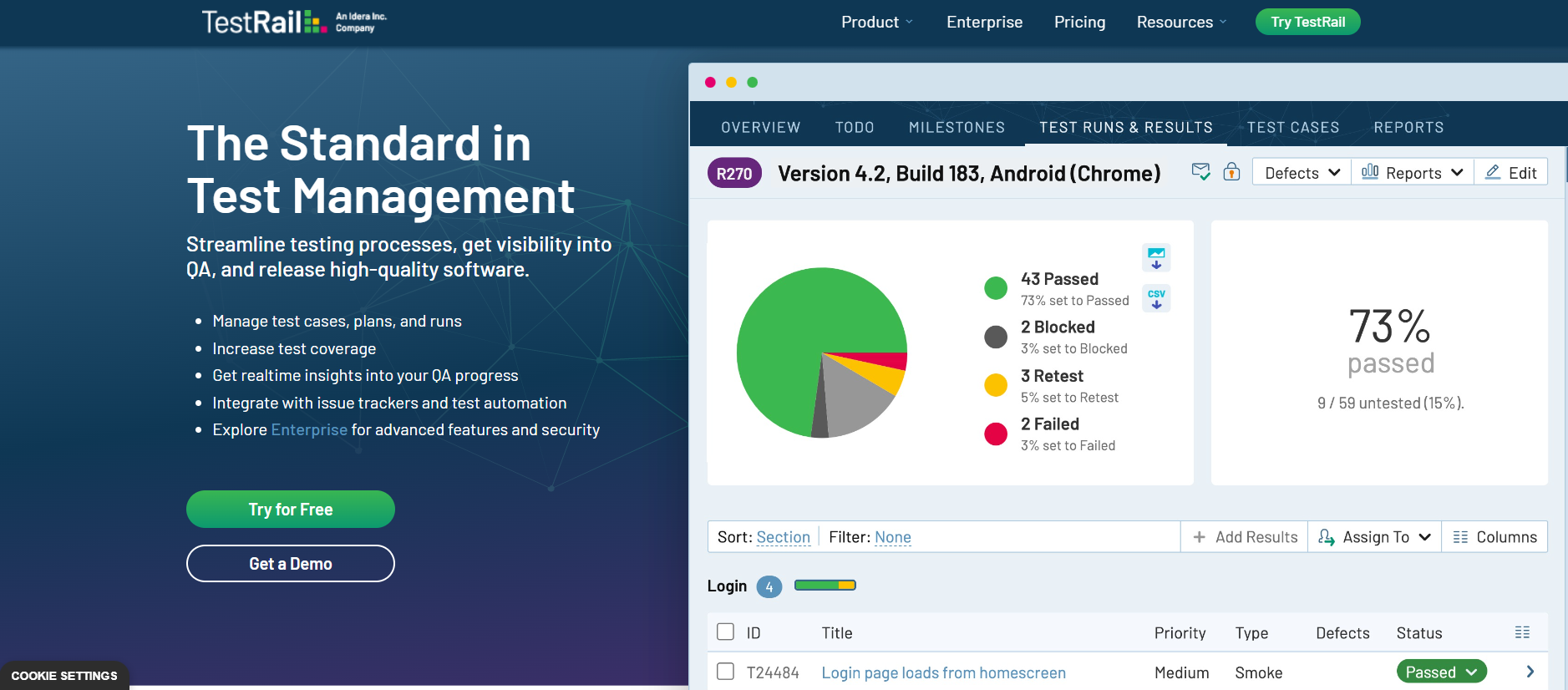 TestRail has several highlights, including:
To track the test progress, it offers informative dashboard controls.
It enables increased customization so that clients can receive tailored outcomes.
The advanced capabilities allow you to compare different test results to see how they all turned out.
5. QAlity Plus:
There are two versions of QAlity: QAlity and QAlity Plus. Both editions of Test Management for Jira are add-ons exclusive to Jira and offer features for test management incorporated with Jira. They give you resources to help you manage testing for your projects. It vividly shows procedures in the Jira issue and makes the testing outcomes visible!
QAlity Plus has several highlights, such as:
Develop and oversee test cases
Test scenarios for export and import (Exclusive to PLUS)
Utilize test cycles to schedule the testing and monitor its progress.
Run tests and flag steps that failed.
Simple bug reporting and test-bug linking (PLUS exclusive)
User assignments for test executions (PLUS exclusive)
Through JQL, add more tests to the test cycle (PLUS exclusive)
Check out the Test Execution Report
Traceability Report View (PLUS exclusive)
With priority access to customer care desk as a QAlity Plus customer, you can ask for help, report issues, or ask for new features.
6. QA Wolf:
QA Wolf assists teams with quality assurance (QA), enabling them to find defects and launch products quickly. A cutting-edge end-to-end testing solution, QA Wolf is designed for testing teams of all experience levels. The platform lets customers rapidly expand their UI test coverage and easily develop tests online.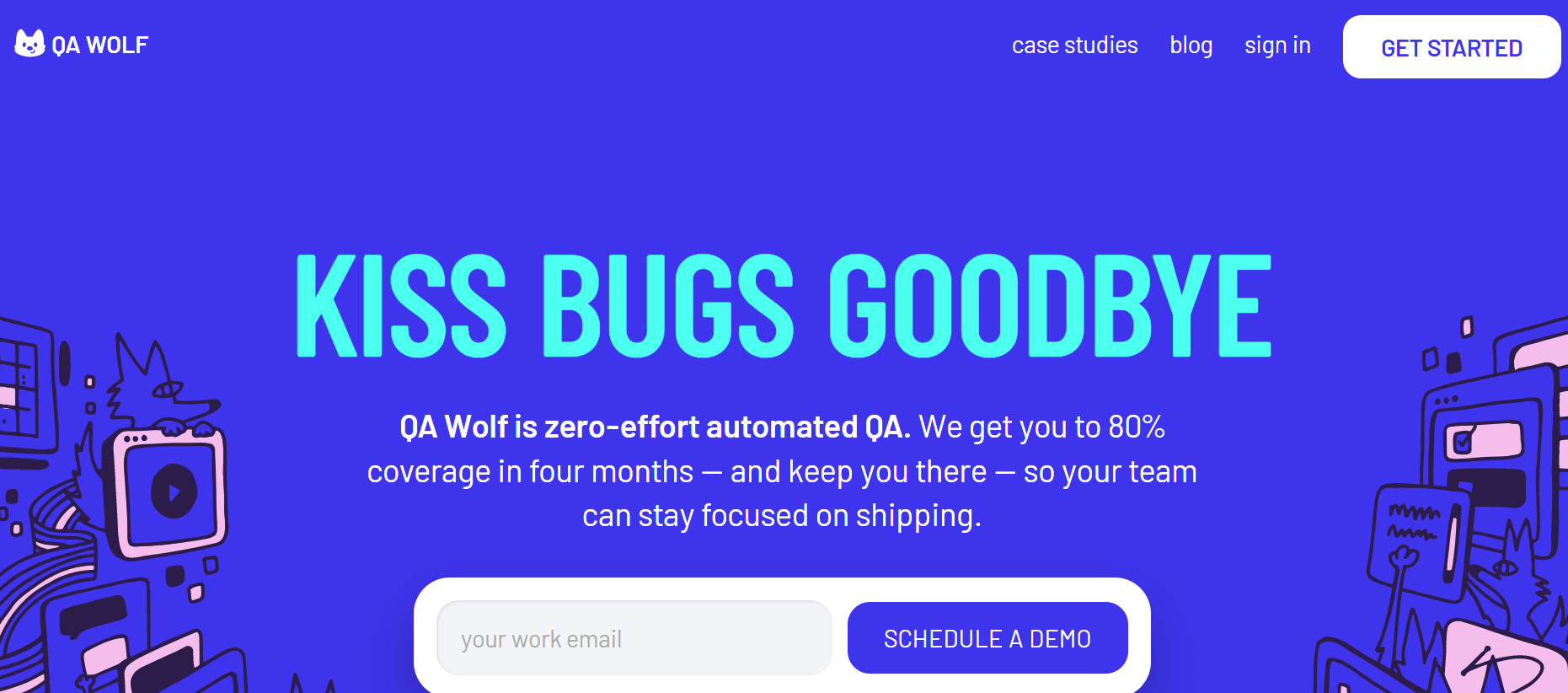 Some of its highlights are:
No setup or installation is necessary. Everything you need to get started is available right out of the box because QA Wolf is completely hosted. You don't need to install new software or download drivers.
A simple, elegant UI. One clear and uncomplicated interface contains everything required to design and maintain tests. You need not develop your tests by switching back and forth between windows or apps.
Allow all members of your team to design tests. No matter how difficult the tests are, QA Wolf is for them all. Simple tests can be created by any team member with practically no technical expertise. Developers can add unique JavaScript code to complex tests to assist debug issues.
Execute all of your tests concurrently, and get results instantly. With QA Wolf, test run times are no longer a bottleneck. All findings, whether you conduct 100 or 10,000 tests, will be supplied in a matter of minutes.
7. Zephyr Squad:
Zephyr Squad is a customizable test management solution in Jira that lets agile teams focus on test automation, test execution, and test design. You may easily organize your test cases and monitor progress using charts and reports that are visually appealing. You can use your preferred steps to automate tests or demonstrate compliance at scale.
Zephyr's best feature is how simple it is to import test cases from MS Excel. Its user interface (UI) makes it very simple for users to understand its features; for example, importing test cases may be done in a few steps with simple mapping and validation. If you work on an Agile project, it features a dedicated area for Behavior Driven Development (BDD) test cases, which is quite helpful.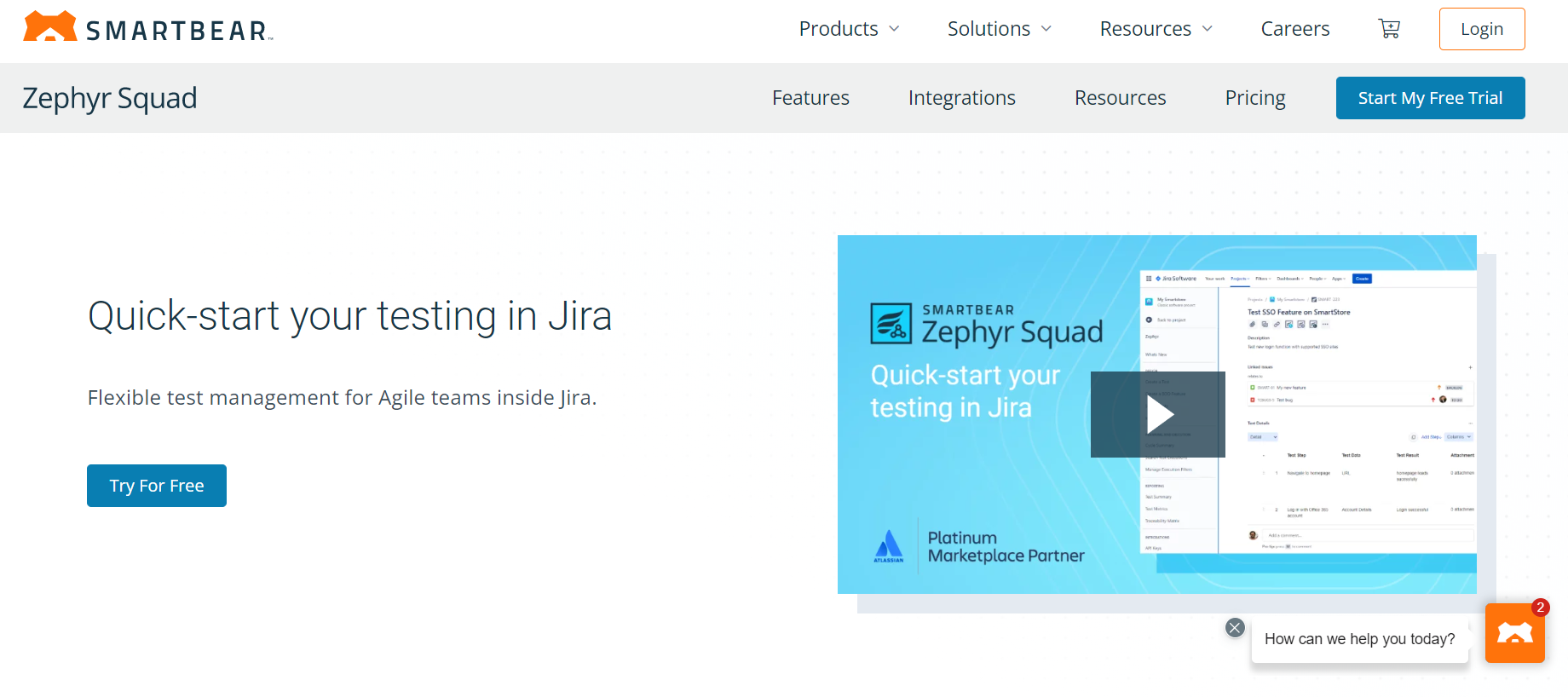 It provides the following attributes:
Tracking of bugs.
Data export and import.
Visualization of data.
Move and Copy operations.
Quality Control.
Statistics & Reporting.
Brief reports.
Integrations with third parties.
8. Requirements and Test Management (RTM):
The entire software project, from requirements to production, is managed inside the Atlassian suite using Requirements and Test Management for Jira Cloud. It is based on native Jira functionalities that assist in integrating testing with requirements, development and reporting effortlessly. RTM is ideal for QA and analysts requiring a comprehensive project picture.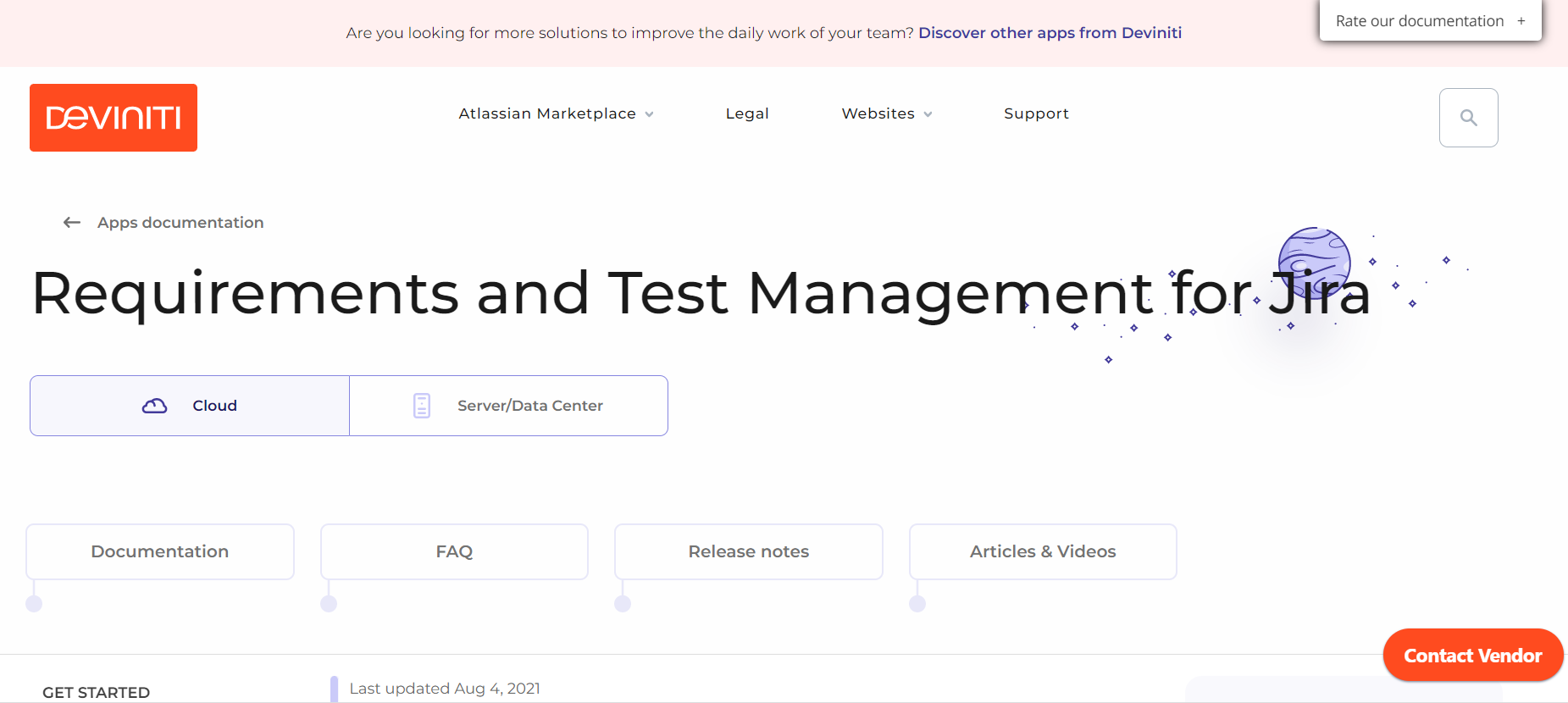 Among its attributes are:
Built-in requirements management
Modules for navigation and tree folder structures.
Easy to execute tests.
Provides templates for reusable test plans.
Versatile filters for customizable reports.
Basic support for automated testing (REST API).
Best programmable dashboards
Feature of a Traceability matrix for a thorough recovery of the requirements.
Easily import test cases from other tools.
9. Ranorex:
If you're seeking a simple software test automation solution, you should consider Ranorex. The software enables the QA Engineers to test mobile applications on various platforms, including native Android/iOS and Windows applications. The tool offers test automation for numerous platforms, gadgets, and software programs.
Ranorex is compatible with several UI technologies, including Java, HTML, C#, Flash, Android, iOS, and Silverlight. It lessens the need for test automation maintenance while providing total flexibility, including script-free testing for non-programmers.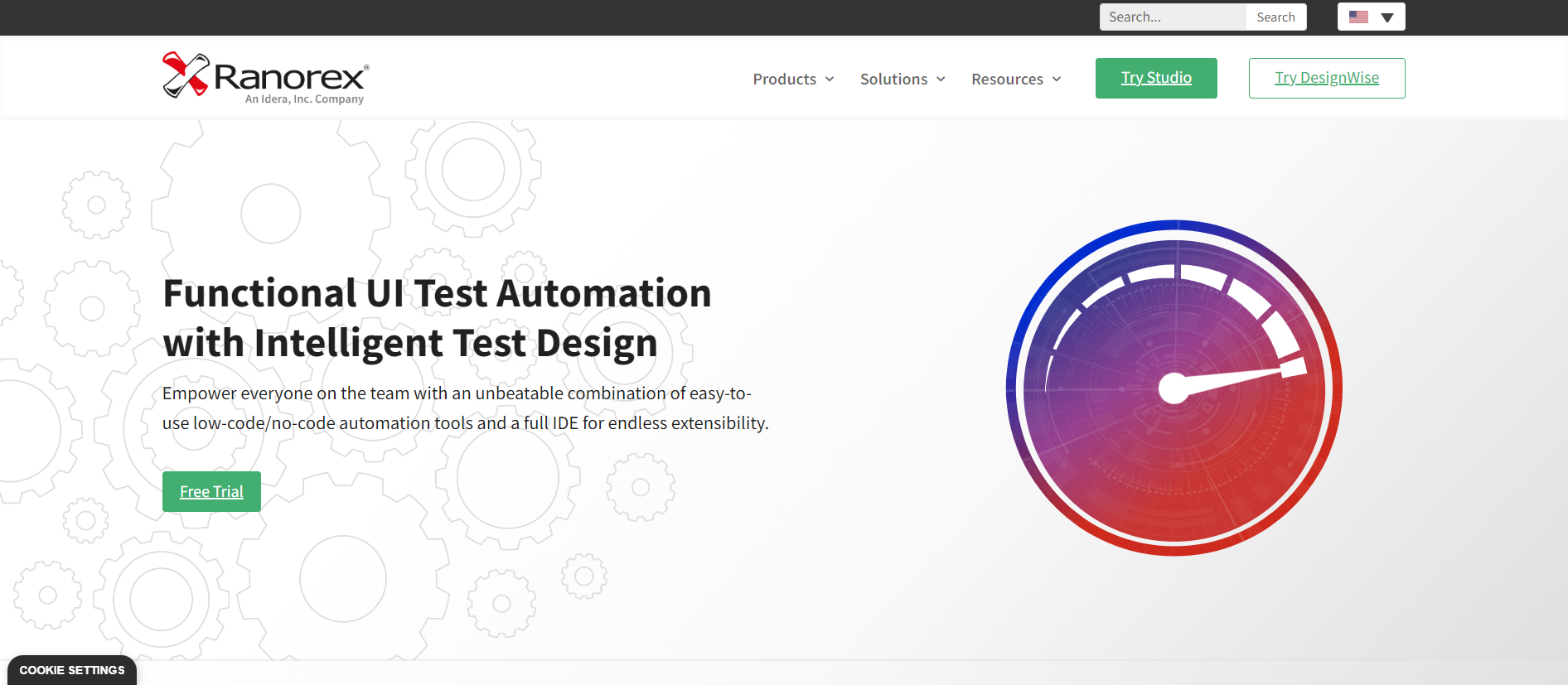 Some of its features are:
It supports picture-based validation, allowing users to compare any or all of the application's images with the intended image. The image being tested may be a screenshot of the software or it may be directly put into the program.
It provides a trustworthy user interface object recognition model that solely relies on Ranorex XPath technology.
It provides a spy engine that keeps track of every single user interface component shown on the application's screen. The user can easily recognize the application's UI components thanks to its object recognition capability.
It captures test cases directly from actual mobile devices. There is no requirement to create a single line of code while altering the recorded steps.
It gives the user access to a set of tools that let them record UI activities without writing any code and then automate UI testing.
Cross-platform testing is Ranorex's most effective feature. The test cases can be run on many mobile devices, including Android and iPhone after they are written.
10. QADeputy:
QADeputy is an effective test case management tool that streamlines processes effectively related to test cases, runs, suites, and reports. Thanks to its centralized test management interface, you can increase your productivity. Additionally, it facilitates mobile stakeholder-based communication services and real-time data.
As a test coordinator, you can customize QADeputy to suit your requirements. This includes adding custom fields, reusable snippets, tags, configurations, statuses, and more. The management and operation of tests are made easier with a comprehensive dashboard view. Additionally, QADeputy's API greatly facilitates the integration process. You can then easily push data into the system or retrieve data from it.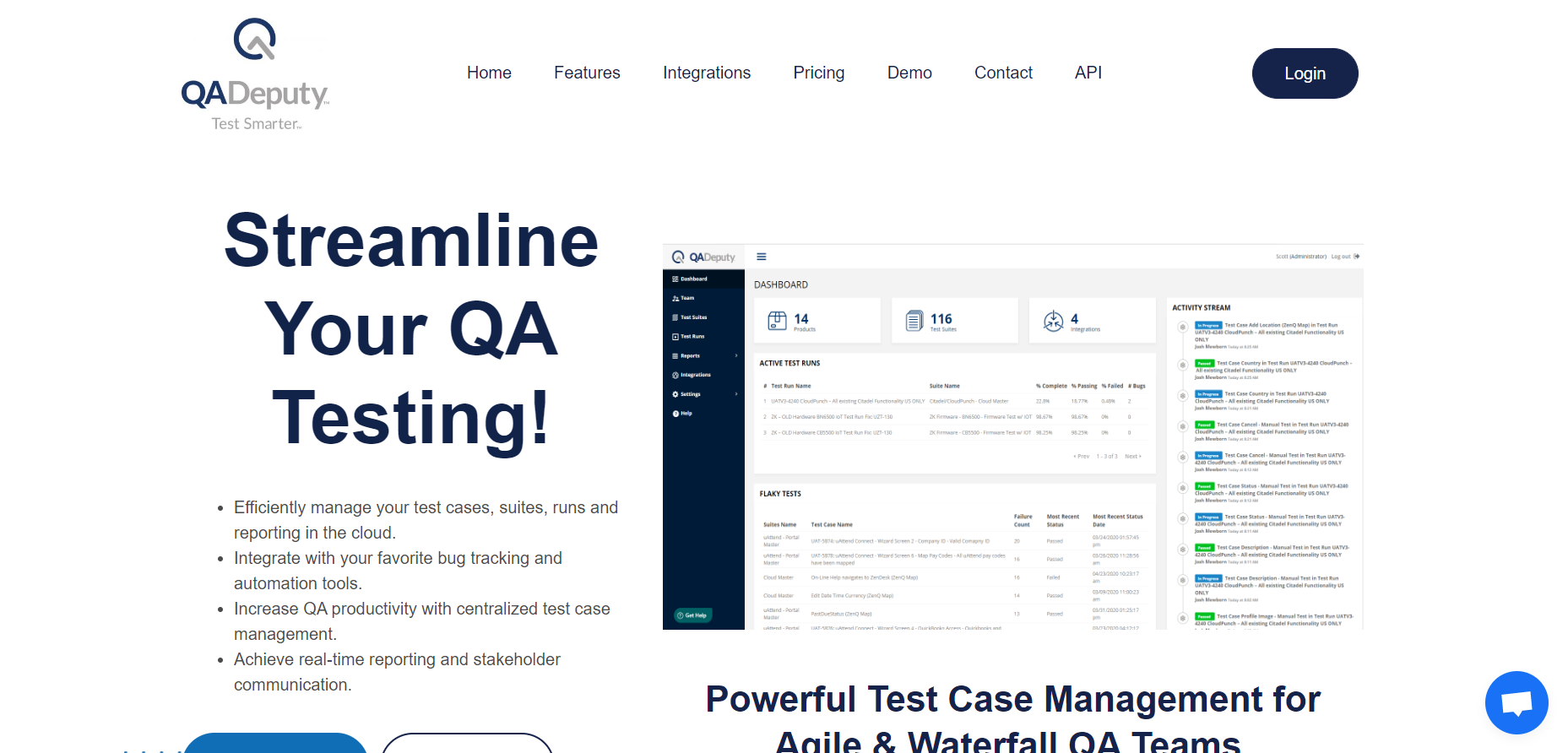 Among QADeputy's features are:
Allows for real-time app debugging and the replication of errors.
Enables the user to record, document, and manage any encountered bugs.
Connects the user's application to other CI programs that are already installed.
Offers access control, which is a way to restrict access to sensitive data. Only individuals whose identities have been verified can access company data through an access control gateway. Authentication and authorization are used to perform this selective data limiting.
Enables testing by providing the user with established settings.
Allows for debugging.
Best Test Management Tools For Jira: Key Features
The agile board ought to include test cases.
Based on the functional decomposition approach, the tool should enable the hierarchical grouping of test cases.
You should be able to explore test cases using the tool's requirement-based perspective.
The tool should let you apply the test plans to various settings.
An overall picture of the test plan results should be offered by the tool.
A matrix of traceability should be provided by the tool.
On the user's dashboard, the tool should offer customizable gadgets.
The tool ought to support test automation.
You should be able to run automated tests with the tool and see the results directly in Jira.
Some Other Test Management Tools for Jira
PractiTest
Test Collab
TestFLO for Jira
XQual
TM4J
Qase
TestStuff
Aqua
ReQtest
Juno.One
TestMonitor
TestCaseLab
Klaros – Test Management
Read Here – Open Source Test Management Tools For Jira
Wrapping up
Management is important, be it in daily chores or complex work commitments. Testing is no different; it is a process that needs proper management tools to ensure easy execution and proper workflow. The tools discussed above are one of a kind with features that will help you at every step.
These Jira test management tools facilitate the work and assist engineers in achieving the intended results throughout the process. As a result, these tools are vital to the testing business.