10 Best Testlio Alternatives That You Should Try Out
Testlio is an automated testing tool that allows users to get a hierarchical view of the testing workflow. It also lets the testers move and copy the test results and do parameterized testing. And the no-code approach of this testing platform makes things a breeze for customers. However, with a lack of flexibility on rollover hours, it just might not meet your testing requirements. Here are some Testlio alternatives that bridge the gap.
Top 10 Testlio Alternatives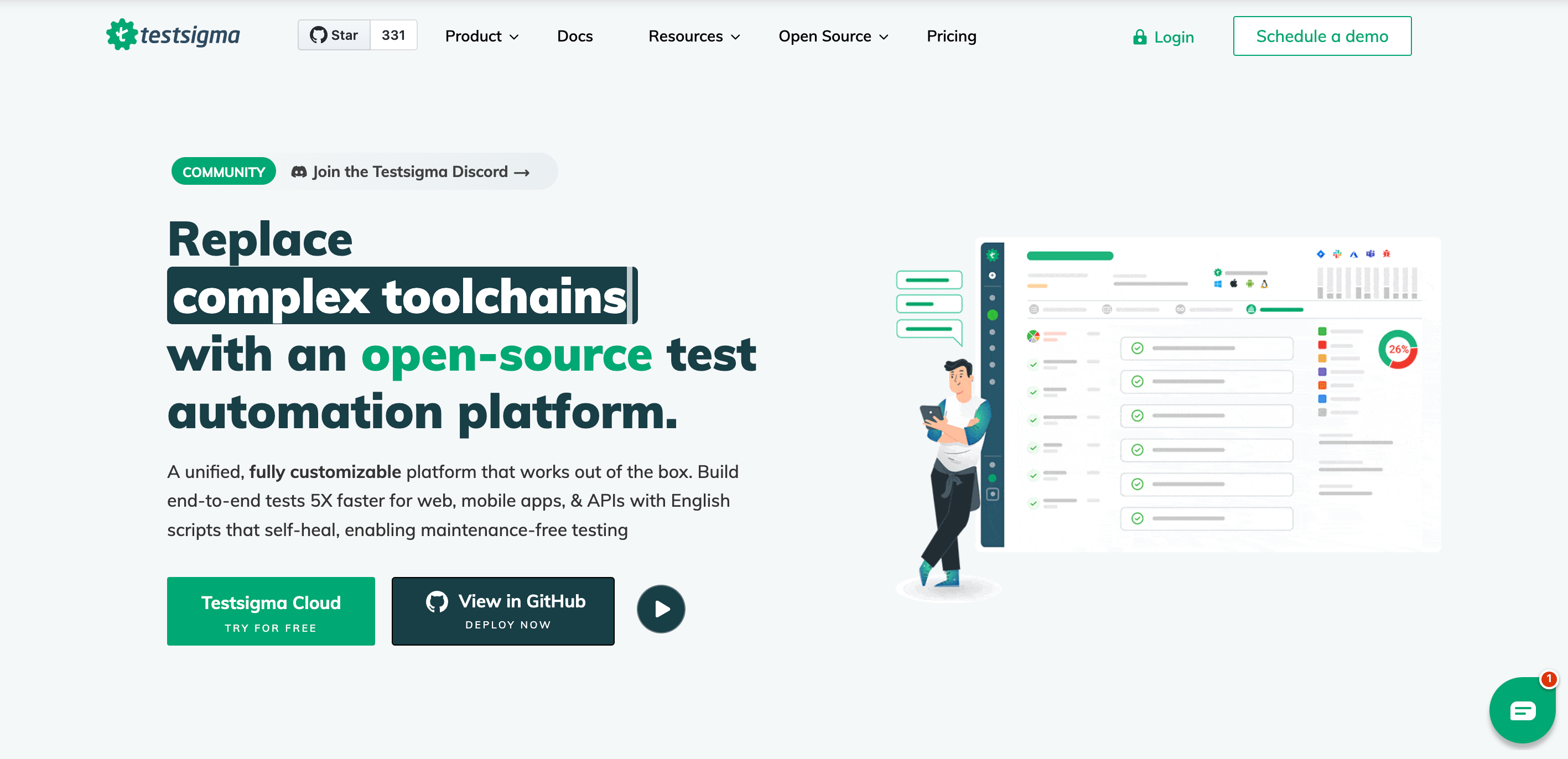 The first entry in this list of the Testlio alternatives is a software testing platform that works out of the box. And the best part is that it supports multiple platforms for performance testing websites, iOS and native Android apps, and APIs. So, whether you work with web applications or mobile apps, Testsigma will always have your back.

Nonetheless, the main attraction of this testing software is that it is built for modern Product teams. The software testing platform allows the teams to collaboratively develop, plan, execute, debug, analyze, and report automation tests. It even has visual testing, enabling you to see the difference in real-time and helping you test the visual design of your application UI.

This testing platform even allows 2FA testing and data-driven testing. There are loads of advanced test automation features, which you will not see in other Testlio alternatives. Overall, it is an excellent pick for testers who want to run tests swiftly and efficiently and see the testing progress in real-time.

2. Qualibrate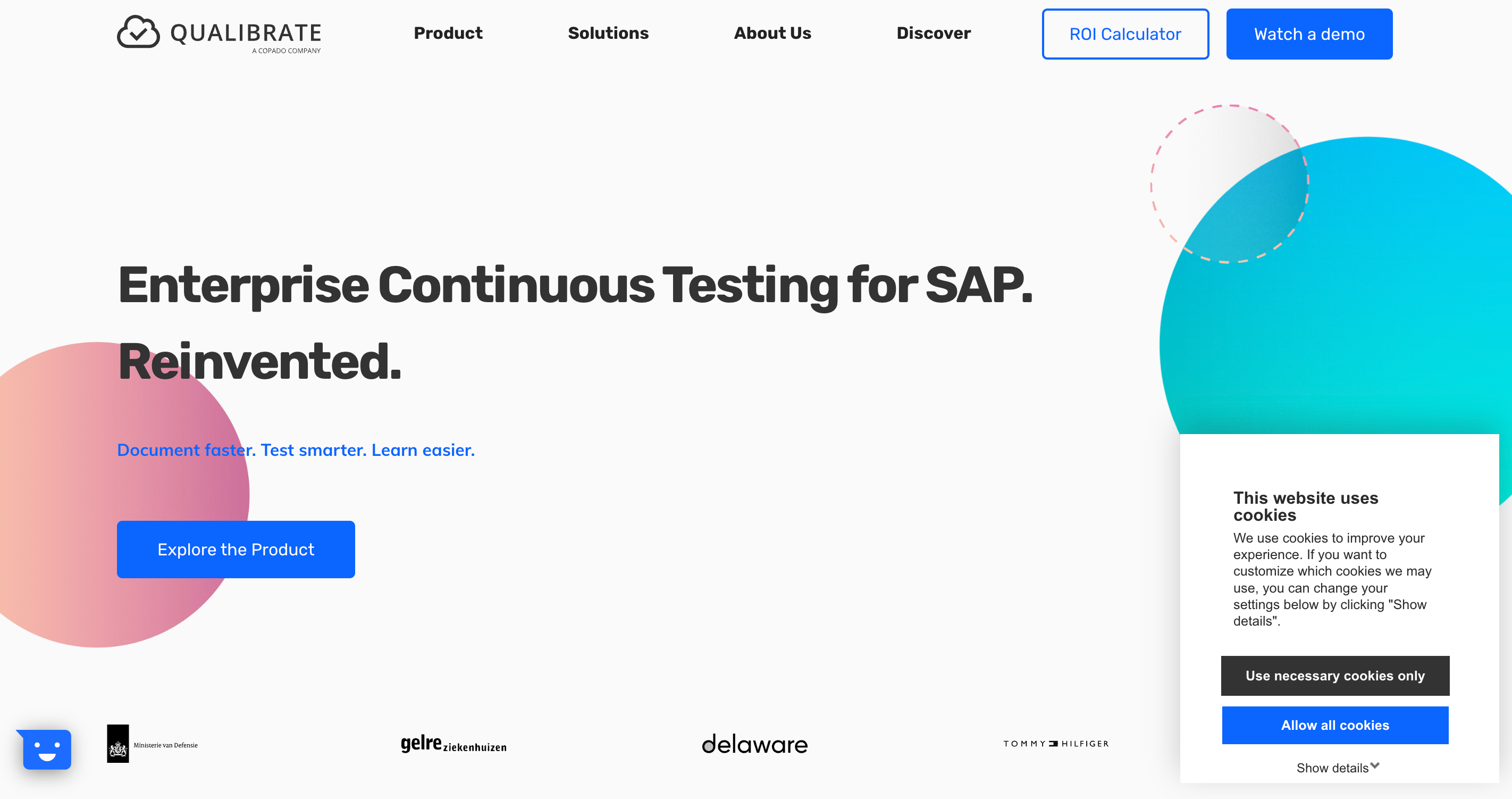 Developing web and mobile applications needs much work. And Qualibrate's continuous testing process on those web and mobile apps seem like a piece of cake.

This testing software is a highly accessible automation platform and a cloud-based solution for web applications and SAP. Unlike some of the other Testlio alternatives, The software testing program's driving power is its simplicity, integration, and customization. The automated test cases are also easily maintainable and highly reusable.

It is compatible with most of the continuous integration and continuous delivery tools. That seamless integration of CI and CD will let you run automated tests without hiccups.

3. Tuskr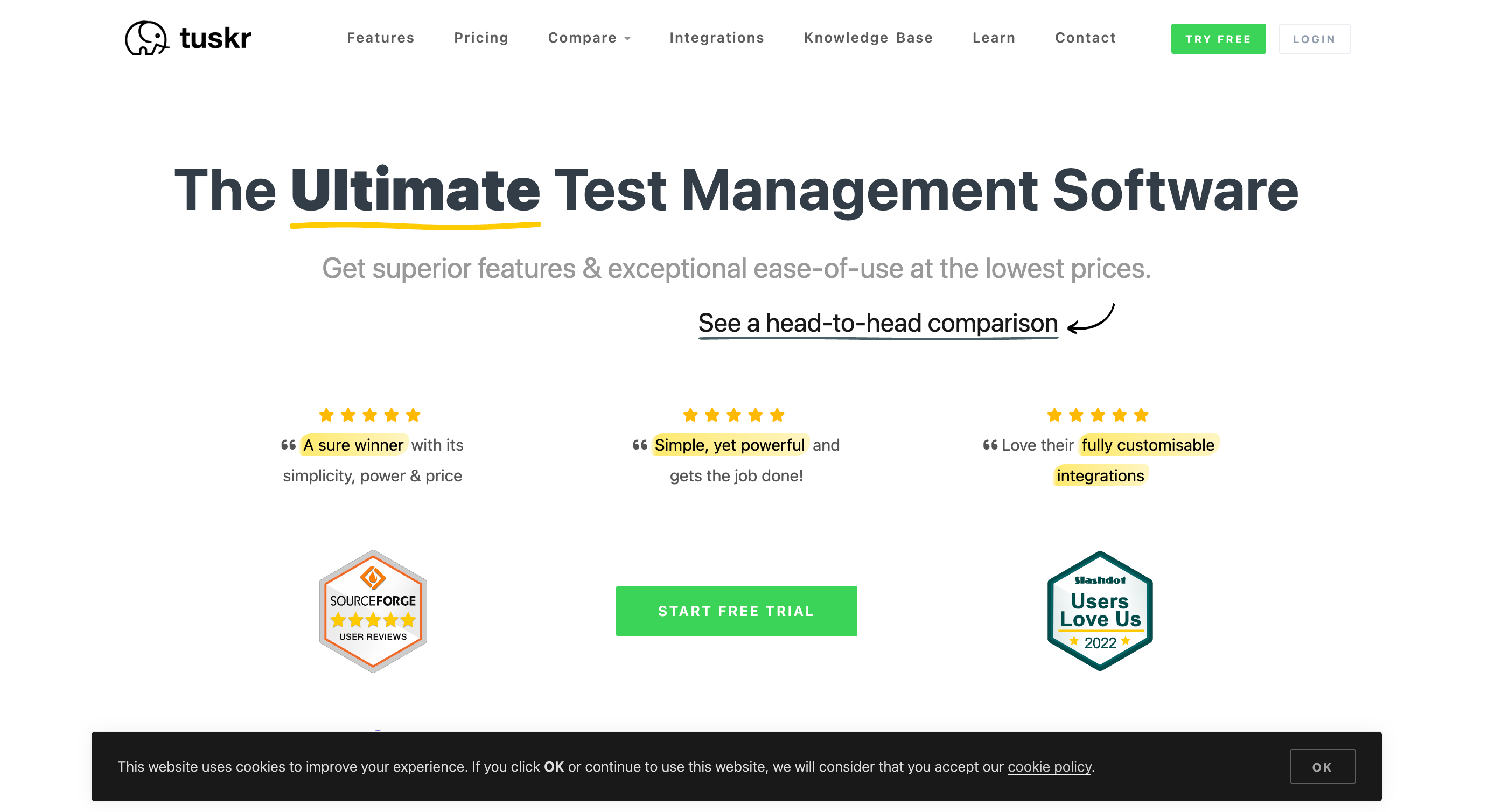 Another testing software that allows users to manage test cases easily is Tuskr. But that is not the only highlight of this testing software. There is much more this performance testing tool brings to the table.
This cloud-based testing software allows you to do test planning, create tests, and conduct them at ease. The test planning and creation process make the app-testing process feel like a walk in the park. Unlike other alternatives, Tuskr enables the user to optimize the automated tests beforehand. It lets you run manual tests.
Also, it will enable you to increase your accountability and use your resources effectively. One more difference from other software testing tools is the set functionalities. There are rich-text editing, custom fields, and copy-pasting options available.
But the lack of features like No advanced and cross-project reporting or No inbuilt bug tracking might be a slight pulldown.

4. TestRail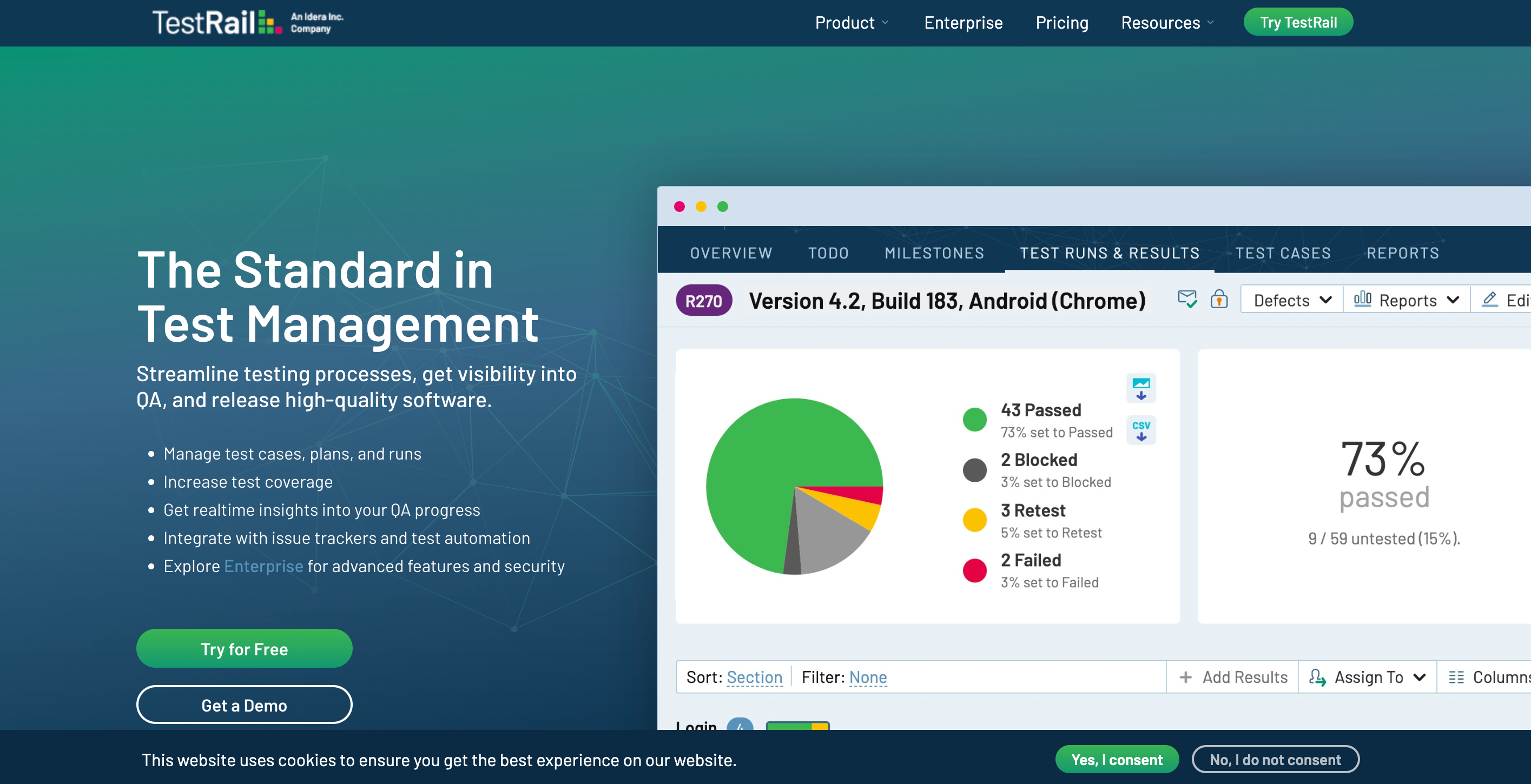 While looking for software testing tools, you might want something to boost your team's productivity. In that case, consider TestRail, which is one of the most efficient Testlio alternatives.
The first thing that makes this automated testing software stand out is that it provides real-time insights regarding the testing progress. Also, the web-based software testing platform has an intuitive UI. That UI will let you collaborate with feedback loops, attachments, and comments.
You will even have the option to get email notifications and personalize to-do lists. It also has the feature to let you do manual testing on your web and mobile apps. The manual will instantly provide test coverage reports like the automated testing process. You can undoubtedly enhance most of your business processes.
5. TAST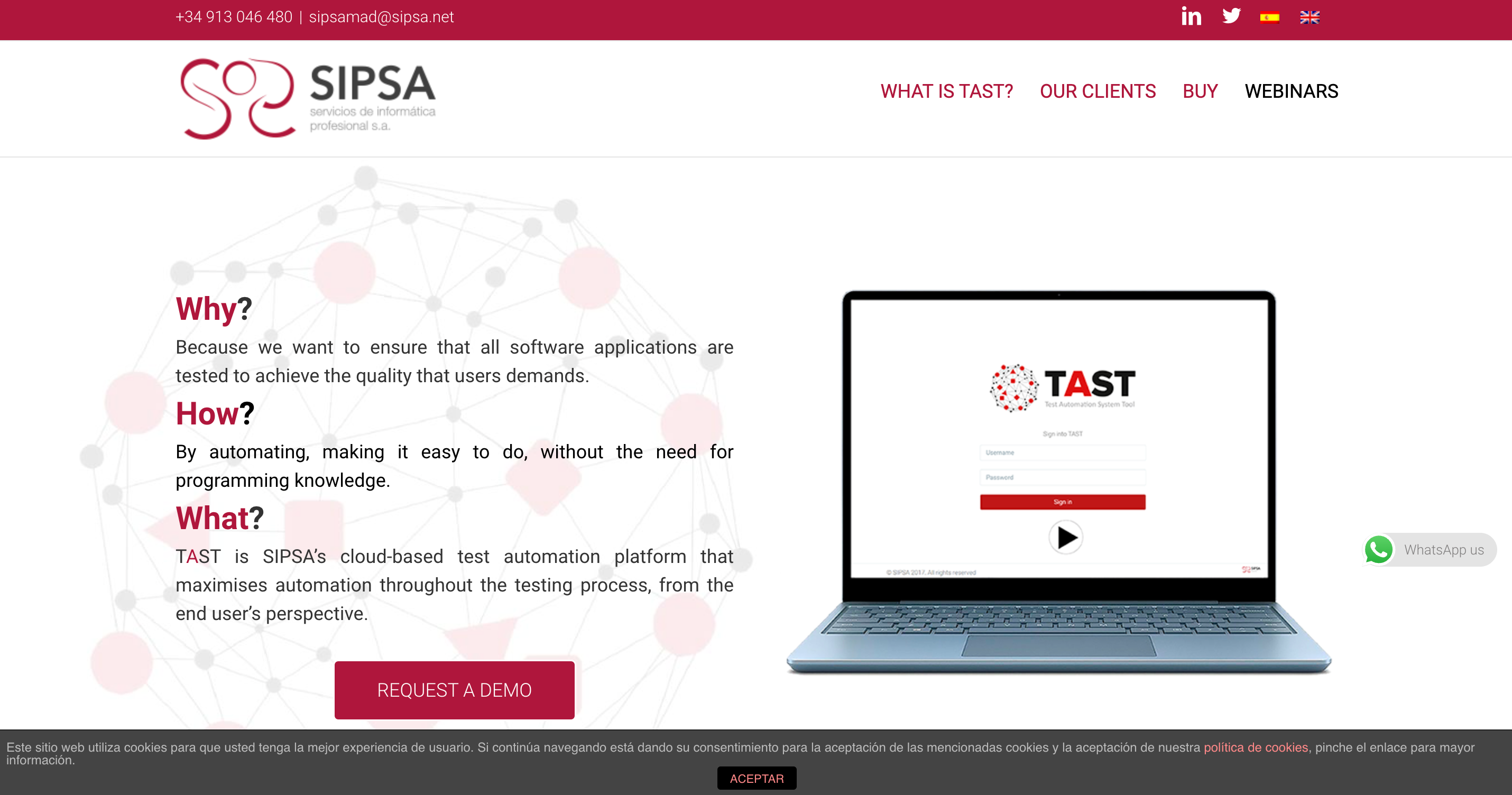 Want to get your hands on software testing tools that will let you comprehensively test websites? TAST is what you need!

TAST allows its users to comprehensively test websites through a cloud-test framework than other software testing tools. This cloud test automation system lets businesses maximize web and app testing efficiency. It has a graphical interface and briefly provides all test case results.

TAST does not have a free version and does not offer a free trial, so you cannot try it before you buy it. On the other hand, there are options to carry tests on API, interface, and files. And while you are testing web and mobile apps, you can get proper feedback on each after the testing process is finished.

6. Klaros-Testmanagement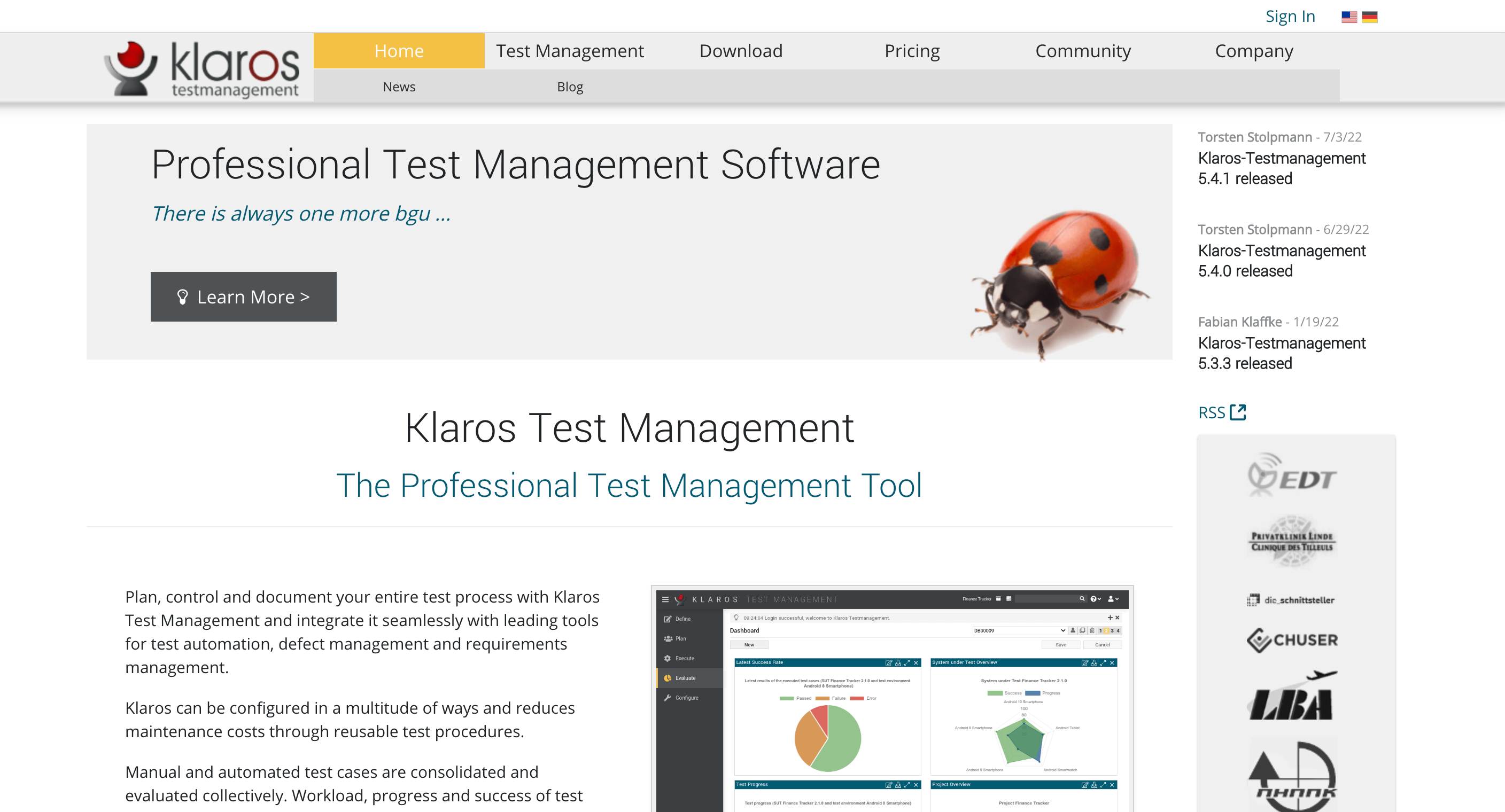 What if you could automate repetitive processes and get all functionality test scopes from all test areas in the same testing tool? Wouldn't it be great? Well, Klaros Testmanagement is offering a tool precisely like that.

This test automation tool is an all-in-one platform that covers every area of the entire test process, from test planning to creation to execution. It handles all test tasks pretty well. You can even generate test reports and evaluation files quickly.

The pricing model is "quote" here. It also has advanced features for web and mobile app testing. You can take good advantage of that and enhance your development process. The software will ensure both the quality and efficiency of the automation tests. Also, there are options for cross-browser testing and manual testing. You will not feel left out on anything.

7. Tosca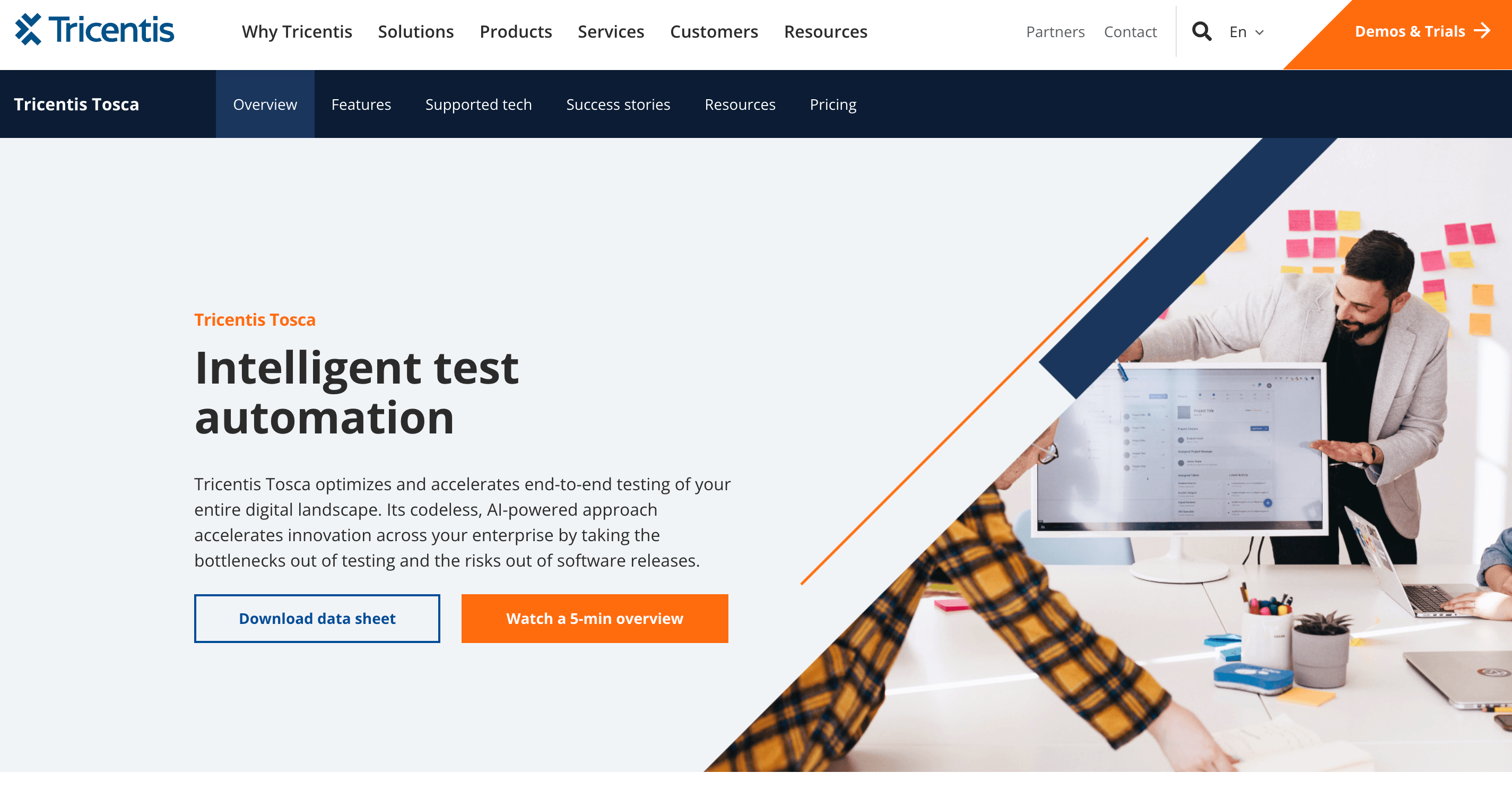 No-code continuous testing is something that most software testing tools can not bring to the table. Well, that is where Tosca stands out.

Apart from allowing customers and developers to test their enterprise and mobile applications, Tosca has a no-code feature. That will enable developers to get reports on their enterprise applications in a pretty short time, which speeds up the development process for you.

The unavailability of tools on the MAC operating system and LINUX might be Tosca's little foible. Unlike some of the competitors, Tosca reduces the regression testing time significantly. Customers and developers can use that functionality to enhance research and development further. And although its requirement is Windows or SaaS, its automation functionality is undoubtedly worth a try.

8. Alithya GoTest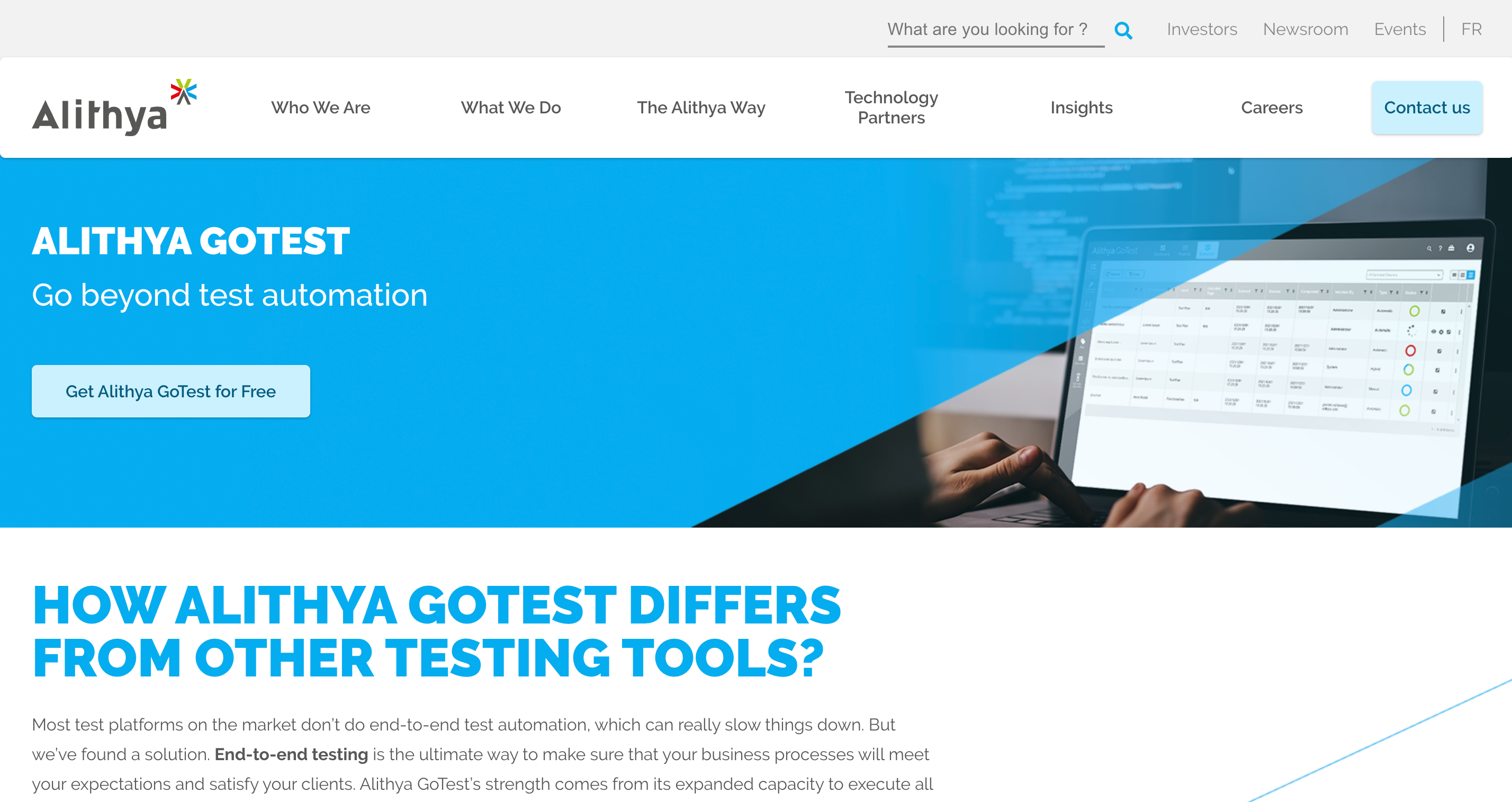 Alithya GoTest is a tool you can quickly master. It is a collaborative test hub that lets you promptly master and integrate your automation tasks.

Using those, you can ensure the quality of your desktop and mobile applications without sacrificing one bit on agility or speed. It even supports multiple operating systems and offers flexibility when testing mobile and desktop applications.

It allows customers to make hybrid tests besides functioning across different devices. This software can test out your desktop and mobile application on multiple browsers. It even has cross-browser testing functionality, using an actual device to offer you the results.

9. BrowserStack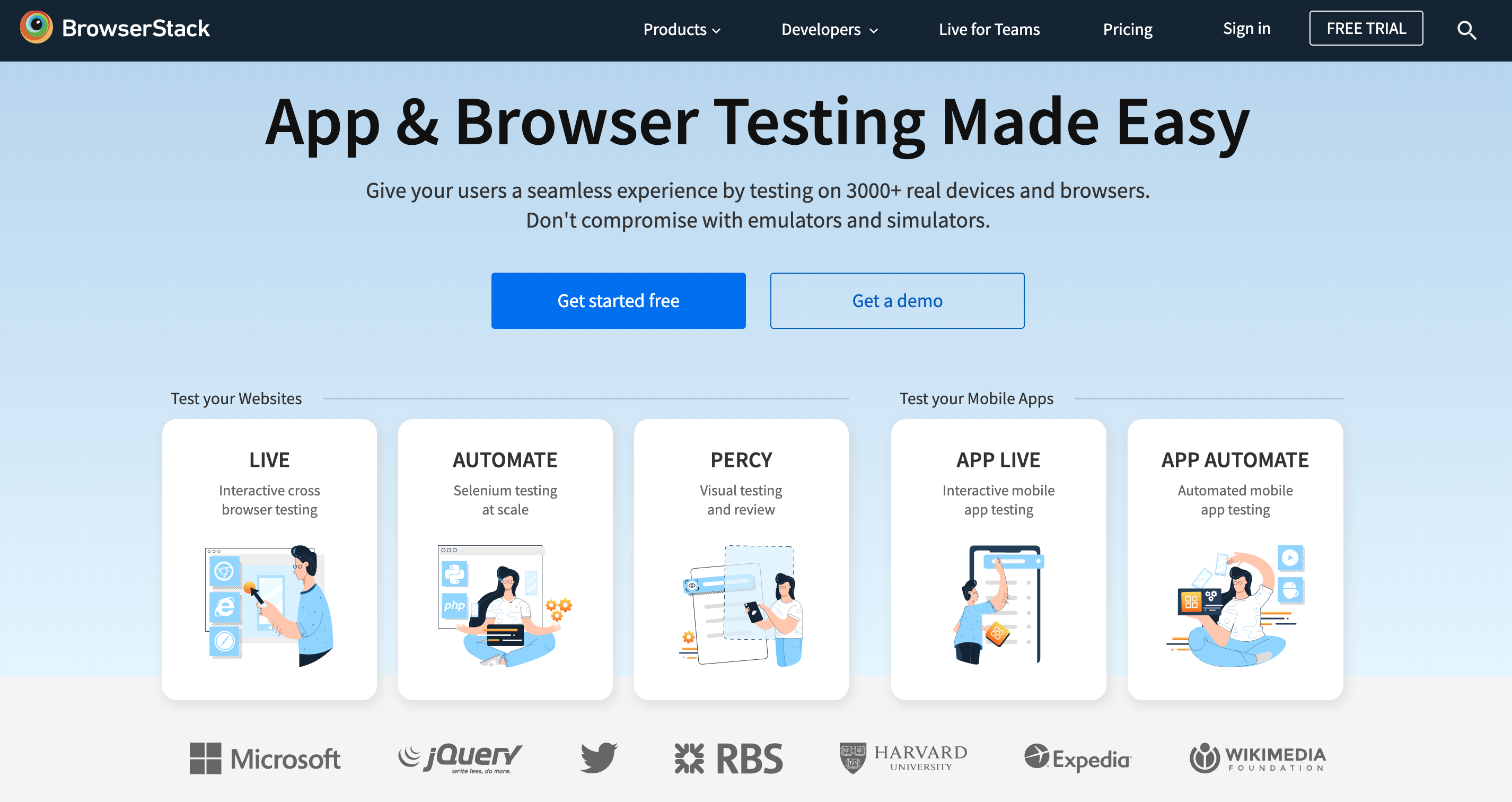 Wouldn't it be great if you could shrink your build times to five minutes? That is BrowserStack, which makes that dream a reality. This test automation and test management platform is all about utilizing testing web applications. And the best part is that it uses 2000+ real devices and browsers for the tests.
Another thing that makes this software stand out is its reliability. Big companies such as Wells Fargo, Nvidia, Shell, and Tesco rely on this web test management program. The cloud infrastructure of this test management platform is truly top-notch.

The test automation platform also works on both Windows and Mac, allowing you to execute the test management tasks to your preferences. Also, thanks to this software's features, you can ensure all your web applications meet the expected quality and speed.

10. Leapwork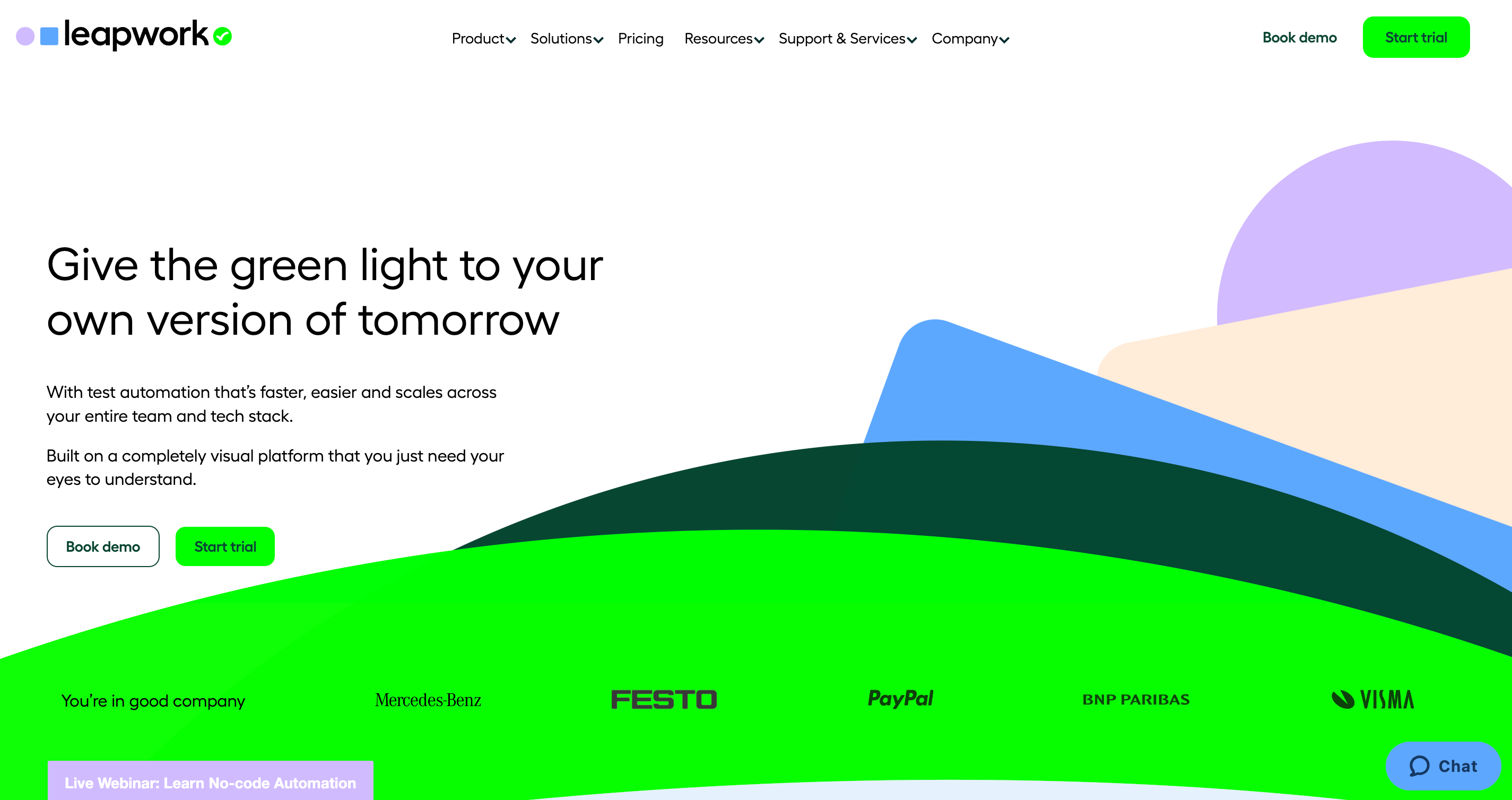 Another web and app development platform that has immense client trust is Leapwork. The core element driving this web and app development software is its visual and no-code approach. This feature makes scale automation faster and with minimal hardware for large enterprises. Also, it can conduct the test on multiple browsers simultaneously, Minimizing the time required for test cases, mobile apps, and web application developments.

Leapwork makes it easy to carry out repetitive processes with continuous testing. Thanks to flexible features, you can ensure the quality of each mobile and web app you will develop through this software.
From insurance companies to life science to aerospace, Leapwork is used in many industries and with large-scale companies.
Final Words
Testlio is one of the most established web app testing platforms for its no-code approach. However, it does not always meet the needs of customers looking for further customization. And as you have read about some of the best alternatives available to you, we hope you will be able to make a good call on which automated software testing platform will work for your business.
Testsigma offers a lot to love. It is one of the most comprehensive Testlio alternatives out there today. It's effortless to use, and you don't need extensive development skills to create your first tests. With only a few clicks, testing can begin.
---